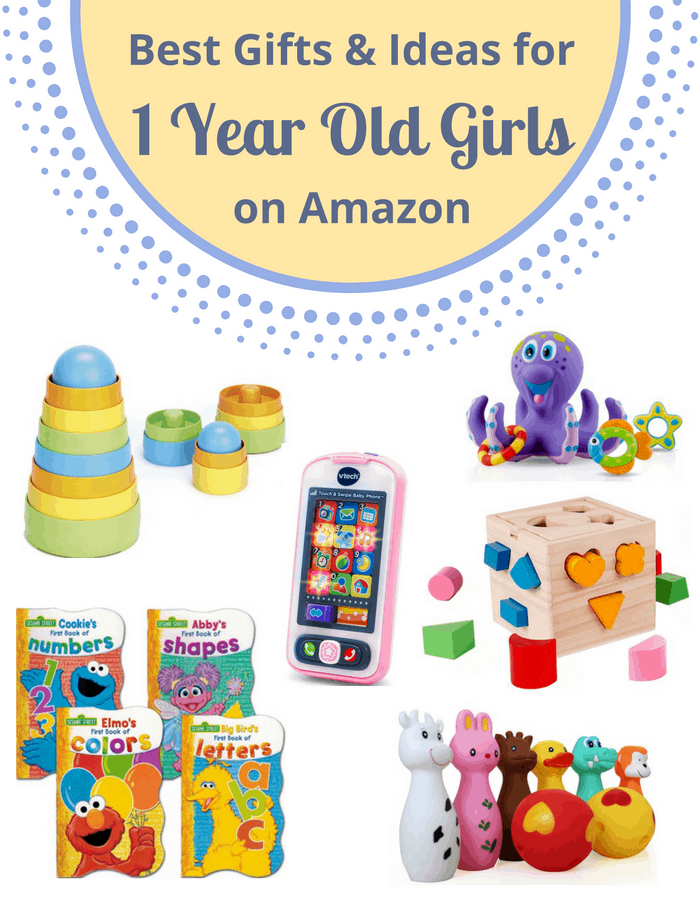 Life is full of exciting changes with a little one year old around – they are growing developmentally physically, socially and emotionally in many ways. Your little girl probably loves to mimic your words and actions, search for hidden objects, explore her world by shaking, banging and even throwing things. One year olds are even beginning to favor certain toys and people.
There are so many options on Amazon's toy inventory, it's hard to know what's best when it comes to developmentally appropriate and fun toys. So here are some of the Best Gifts & Ideas for 1 Year Old Girls on Amazon.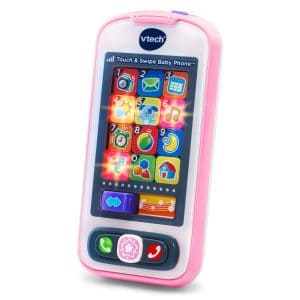 As your 1 year old starts mimicking you and using objects for their intended purpose, this baby phone will get her imagination going and encourage imaginative play. It will also help her build hand eye coordination and other gross motor skills. Plus, it's a cute phone, right? See it here on Amazon.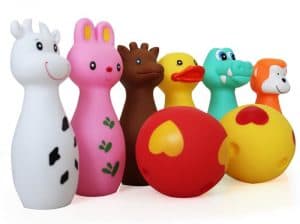 You may be thinking "Really? A bowling set? My kid is only 1!" Yes, exactly! She's at a stage where she's exploring the world around her by throwing and even rolling objects. This bowling set is colorful, fun and encourages great sensory, logical and motor skill practice. The material is fabulous too. See it here on Amazon.
There's no perfect time like the early toddler years to introduce the joys of reading to your little one. And this Sesame Street book set includes numbers, shapes, colors & letters – which is perfect for introducing these themes. The colors are just as vibrant and fun as the stories told in these books. See the set here on Amazon.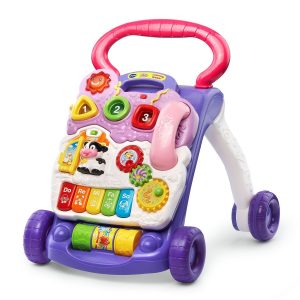 By now your little sweetheart is probably cruising like a champ – or at least well on her way! This learning walker is a great idea to introduce because it will give her freedom to practice taking steps, but also give her a bit of security to hold on to. This particular one also has a few motor skill activities on the front. See it here on Amazon.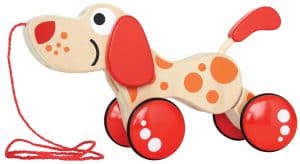 How cute is this little guy? What better motivation to keep cruising and start walking than this little pup! This could also encourage some parent/child playtime, and will guarantee some laughs. She'll love having a pet of her very own. See it here on Amazon.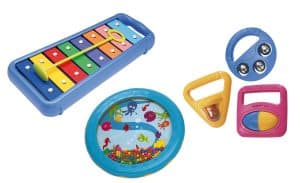 Making music is fun at any age, and your 1 year old will have a blast with these toddler-sized instruments. It really encourages her to use logic & creativity while practicing her motor skills – and the instruments have a pleasant sound for mom and dad too. See them here on Amazon.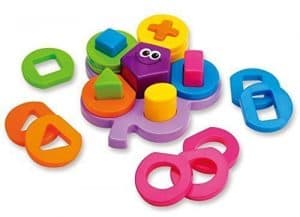 Now here is a fun twist on a shape sorter – they stack up! The fun flower design is so cute – and the bright colors are very attractive to a young toddler. Your little girl will love matching the shapes together and learning to stack them is a great motor skills practice. See it here on Amazon.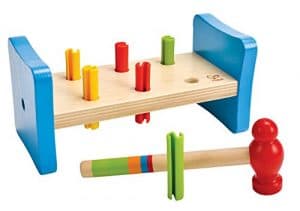 Banging and hitting doesn't always come out of anger! It's a huge mode of exploration for 1 year olds as they understand the limits of different objects (but just not people!). This peg board is perfect for that exploration and working on hand eye coordination and motor skills. Once they've pounded all the pegs, just flip it over and start again! See it here on Amazon.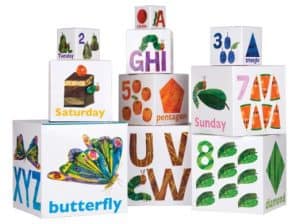 Nesting Blocks are the quintessential, classic toddler toy, and for good reason! They really help stimulate cognitive, logical and motor development at this age – but it's also so fun to build a tower and knock it down. These blocks have images and numbers from Eric Carle's A Very Hungry Caterpillar, which makes them unique and interesting. See them here on Amazon.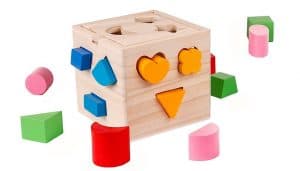 This is another classic – and the craftsmanship on this particular shape sorter is amazing! It's great for helping your sweet 1 year old with shape and color recognition, plus it brings a great feeling of accomplishment for her when she gets all of them right! See it here on Amazon.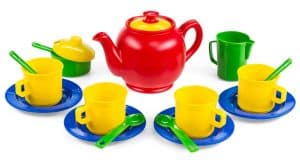 As your little girl starts learning how to use objects appropriately, a tea set is the perfect toy for her to practice using cups, plates, spoons and "pouring." It's very interactive and encourages creativity and practicing all those fine motor skills. This set can also be added to with the dishes set & cooking set as your child grows. See it here on Amazon.

Bath time is usually one of a toddlers favorite times of day – I mean, who doesn't love the water! And these foam bath animals will make it even more fun. They float in the water, but they can also stick to the wall when wet. They are cute and can even be used for animal and color recognition. See them here on Amazon.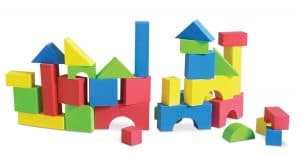 Building blocks are an incredibly versatile developmental toy. They stimulate creativity, logic & reason, socialization and motor skill development. These are made from hard foam, so they are soft enough to play with, but hard enough to discourage eating them. Your little one will spend hours building and creating with these. See them here on Amazon.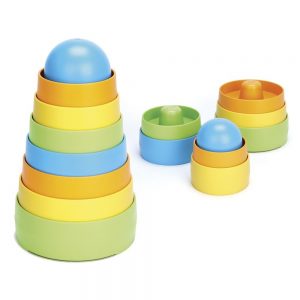 This new twist on the old stacking tower is rather amazing – and might make this the best toy on the list. Because there's no center pole, this stacking tower becomes much less dangerous for your child to play with – and it can be stacked in so many different ways. It will quickly become one of her favorite toys. See it here on Amazon.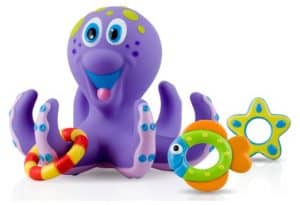 Here's another wonderful bath toy just for kicks and giggles – it was one of Amazon's bestselling toys, and for good reason! It's so cute, and the fun colors and textures are great for sensory development. It floats in the water to make bath time that much more exciting. See it here on Amazon.
Conclusion
Your gift from some of the best of Amazon's toddler toys could be your one year old's new favorite! With fun choices like these, it's almost bound to create some amazing memories at the very least.
If you didn't find what you were looking for, be sure to check out Amazon's Best Selling Clothing Sets for Toddler Girls and their Most Wished for Toddler Toys.