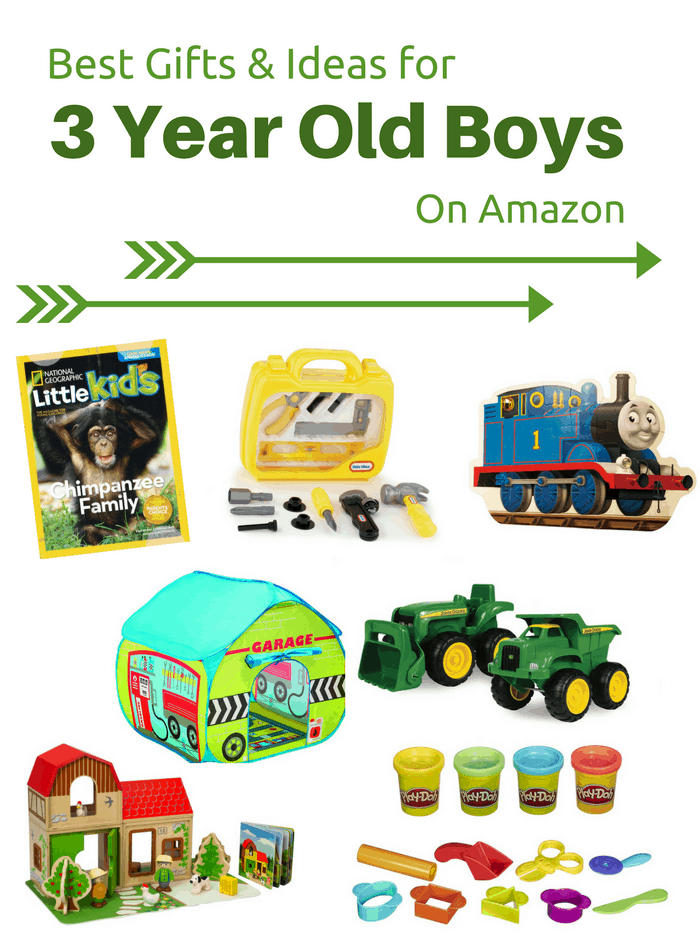 Your toddler isn't just growing physically – his little mind is rapidly growing in everything from fine motor skills like learning to zip jackets and push small buttons to cognitive understanding that allows him to participate in make believe and copy you and others around him. It's a fun and fascinating time to be in a 3 year old's world!
His ever-changing mind and interests make it hard to find toys that will be fun, educational and engaging – So here's a list of the Best Gifts & Ideas for 3 Year Old Boys on Amazon.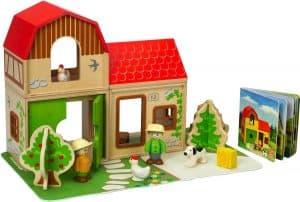 This farmhouse provides hours of entertainment and creativity for your toddler boy. The stackable farm rooms make for endless house configurations and it has a little story book to use along with the people and animals. Talk about imagination and storytelling opportunities – It's also a great toy to play together with him! See it here on Amazon.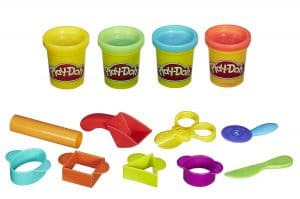 As your 3 year old gains more motor skills, he will show much more interest in artistic items like play-doh which gives him a fabulous opportunity to create by rolling, cutting, twisting & kneading. It's great for sensory and imaginative play – and it's a great indoor activity for those long rainy play days. See it here on Amazon.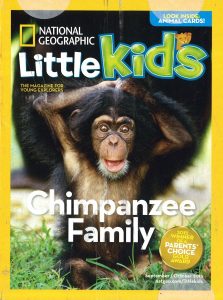 You may be thinking "A magazine for my toddler? Yeah right." But your 3 year old has an ever growing curiosity for the world around him – and this particular magazine is crafted just for him. It's a phenomenal tool to spark interest in animals, plants, other cultures and science – plus it has age-appropriate activities like rhymes, counting games, matching games and even crafts. See it here on Amazon. And here's Highlights High Five and Ranger Rick – two more options to check out.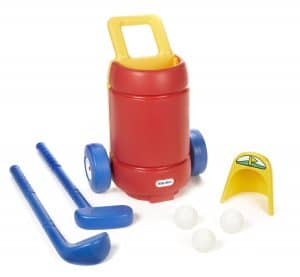 Outdoor activities add a nice variety to your toddler's routine – and help burn some of their endless energy! You should definitely consider this golfer set for just that reason…it uses up some of his wonderful energy while engaging his motor skills & coordination. See it here on Amazon.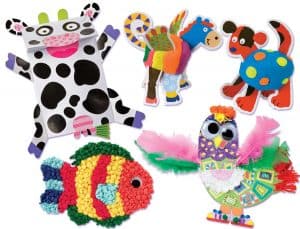 Your little boy's creativity is at an all-time high, so why not captivate on that interest with this Busy Box Art Set. It won a Parent's Choice Award and for good reason. It includes all kinds of fun age-appropriate arts & crafts items like googly eyes, pipe cleaners, colored feathers, buttons & more – and provides endless opportunities for your toddler to create to his heart's content. See it here on Amazon.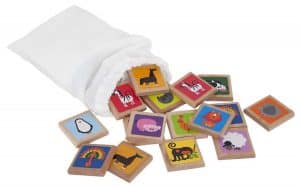 What better way to build confidence and memory skills than an old fashioned matching game? These wooden tiles have the cutest animal art that will not only help him practice memory skills but also help him with word recognition and language skills. Plus, this is another fun game to play with him. See it here on Amazon. Here's another matching game with the Letters of the Alphabet as an alternative.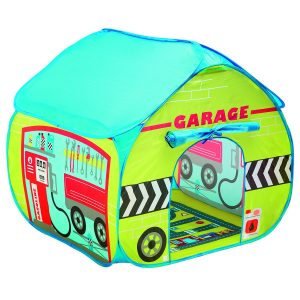 Having your own little space can be pretty meaningful – which is why this play tent is so fabulous. It gives your 3 year old a space to call his own, be independent and even play hide & seek with you! This particular tent is fantastic for a little boy because it has it's own road mat for him to drive his cars & participate in imaginary play. It's perfect. See it here on Amazon.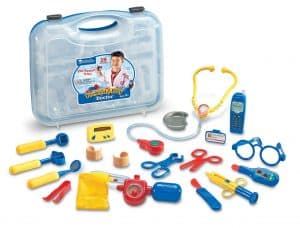 Here's another great imaginary play set for your little doctor. It includes handy, kid-sized instruments, band-aids, glasses & a pager…and will keep him busy treating patients for hours! It's a great kit for playing along or together with parents, siblings or friends too. See it here on Amazon.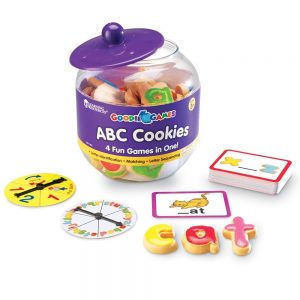 No, no – these aren't pre-baked cookies. But they do add a fun element to learning letters, sounds and early vocabulary. The letter cookies can be used just as letters or as pieces in the 4 games included in this set, and the games grow with your toddler! See it here on Amazon.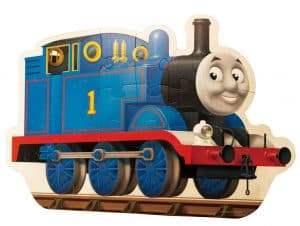 Floor puzzles are such a fun activity for 3 year olds as their logic and concentration skills are vastly improving! These pieces are big enough for them to grasp and hold – and a big picture of Thomas the Train is such a fun surprise. See it here on Amazon. Here's a Traffic Floor Puzzle as an alternative.
It's never too soon to start reading to your children – especially books that can teach them goods & bads, rights & wrongs. And subjects like hitting and biting are especially relevant to toddlers as they go through phases of aggression and independence. The meaningful story and colorfully illustrated pictures do a wonderful job of teaching right behavior. See it here on Amazon. Here's another great book that teaches about bullying – Ernie the Elephant.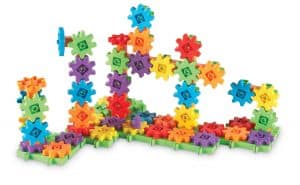 This gears set is a versatile, interconnecting toy and a step up from regular building blocks. Your little boy will spend countless hours sorting, grouping, designing & constructing marvelous creations as their imaginations take over. Gears like these engage fine motor skills while boosting reasoning and problem-solving skills that toddlers are learning. See it here on Amazon. Here's a set of Duplo connecting blocks that are pretty cool too.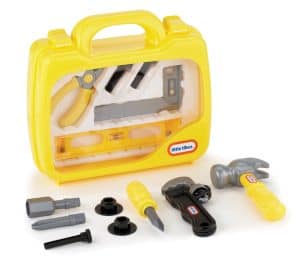 Your toddler will not get enough role-play and pretend play – and that's what's so great about this toolbox set. He can use it to fix your whole house, from the couch to the coffee table to the bed and everything in between! The sturdy plastic tools are the perfect size for his hands and won't bother any of your furniture. See it here on Amazon.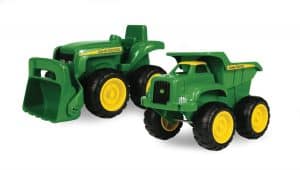 These big trucks are a fabulous addition to any little boys toy collection because they are durable & versatile – strong enough to play outside in the sand but not strong enough to damage anything inside. He'll love using this at his construction site with blocks or legos! See them here on Amazon.

Most toddlers find the rolling powers of toy cars fascinating – and this toy car set give him an ear-to-ear grin! The set contains 9 different models with fun designs, and they are perfect for races around the carpet. See it here on Amazon.
Conclusion
Your little boy will not be able to get enough of these fun, developmentally appropriate toys – and you'll probably love joining in too! But if you didn't find what you were looking for, be sure to check out Amazon's Most Wished For Outdoor Play Toys and Amazon's Best Selling Action & Toy Figures for some other exciting options.