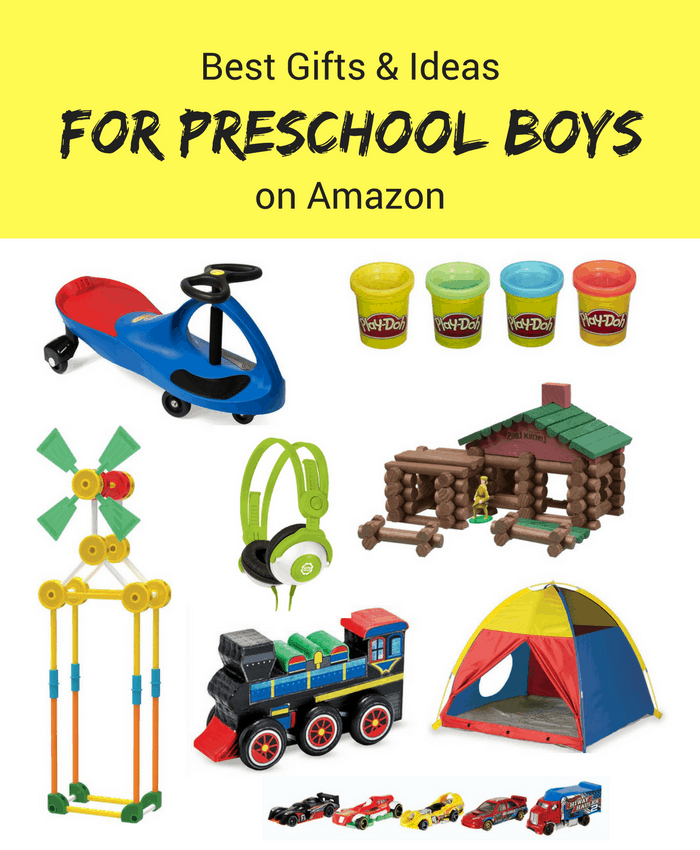 Your toddler has officially become a preschooler and he's now actively exploring everything around him. He's running, kicking balls, feeding himself and maybe even attempting to dress himself!
Toys for preschoolers are so fun to shop for – but there is so many to choose from that it can seem a tad overwhelming, right? If you're looking for developmentally appropriate & fun ways to engage your preschool boy, here are the Best Gifts & Ideas for Preschool Boys (4 to 6 years old) on Amazon.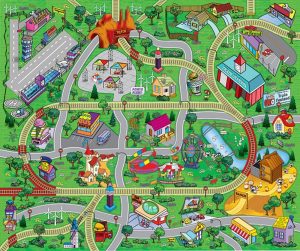 By now your preschool boy has the motor skills and the imagination to stay busy for hours with this car mat. It's a thin felt mat that makes for quick, easy storage & the detail of the design is very impressive. He'll love driving his cars & trucks through the city and the farm all the way to the airport and next to the train tracks. See it here on Amazon.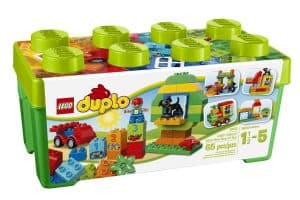 Duplo is the perfect step up from your traditional blocks – and this all-in-one set is the perfect starter kit. The bricks are colorful and the perfect size for little hands. It also comes with a boy figure, a wagon & a dog. See it here on Amazon.
There's something about crashing cars that is incredibly fun, huh?…At least for your preschooler! This Hot Wheels Track Set is the ticket to a whole lot of crashing fun, especially for older preschoolers. It's also great at working the logic part of his little mind. See it here on Amazon.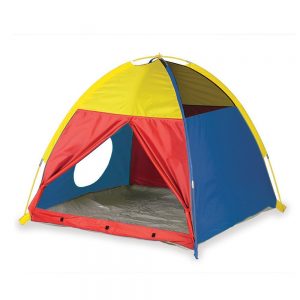 Every kid loves having a play place to call their own – and this tent is exactly that. It's big enough for at least 3 preschoolers and is a great place to let his imagination run free! The colors are vibrant and fun and the mesh panels allow for good ventilation. See it here on Amazon. Your preschooler may never want to leave!

Cars like these are another fabulous open-ended toy. Your preschooler can literally travel anywhere in his imagination with a couple cars! And these guys are high quality, so you don't have to worry about breakage. This is a variety pack, so it'll be a fun surprise for everybody. See it here on Amazon.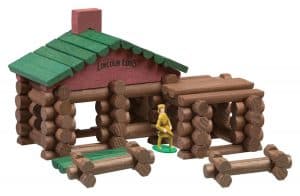 Lincoln Logs are not only a fun twist on your traditional blocks, but they are also a great way to work on motor skills & imagination! They are made out of real wood and the perfect size for little hands to manipulate. See it here on Amazon.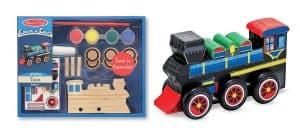 Crafting can sometimes seem like a waste with littles. You make it, only to trash it a year later – but not with this train! You can have so much fun with your preschool boy assembling the train and then decorating it with paint and stickers. It's a craft that will actually transform into a useable toy. And who doesn't love a good train? See it here on Amazon.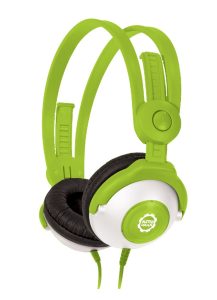 Technology has changed a whole lot – including the thousands of educational shows, videos & apps. These headphones are designed specifically with kids in mind. They are lightweight and fit a child's head perfectly. Plus, you can limit the audio to protect their sensitive ears. See them here on Amazon.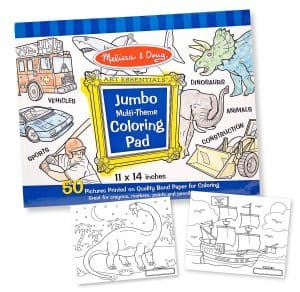 People of all ages love to color – and your preschooler is no different. It's the perfect activity for a rainy day or some quiet time. It encourages creativity and even motor skills. This particular coloring pad is great because of it's size and the variety of pictures. See it here on Amazon.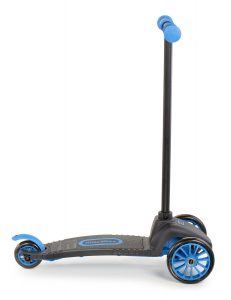 Heading outside to ride a scooter is the perfect way to get some of that bundled up energy out of your little one! This scooter is awesome because it's got three wheels – perfect to learn balancing on one foot. See it here on Amazon.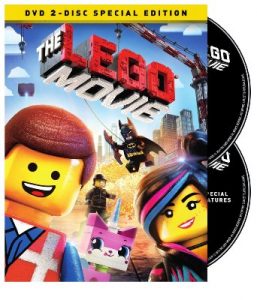 Sitting down to watch a fun story unfold on the big screen can be a great family activity – and the LEGO movie is the perfect story! It's fun for adults and perfectly safe for the kiddos. The visual detail of the images is fantastic and the story is so fun. See it here on Amazon.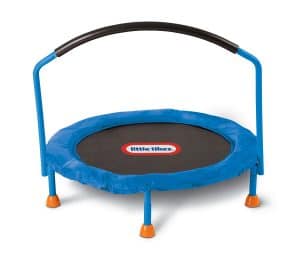 Your preschooler will bounce away the day with one of these trampolines! This trampoline was built for kids in mind – and the cross bar is the perfect addition giving him the assistance he may need depending on his balance. See it here on Amazon.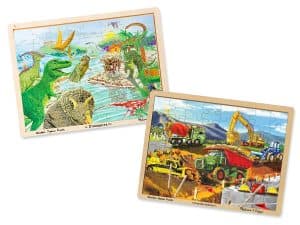 Puzzles are another classic toy that never really get old, no matter what age you are. This set of Melissa & Doug 2 puzzle collection is a great idea for a preschooler. The difficulty level is age-appropriate and the pieces are just the right size. It can be a great way to play together with him too! See it here on Amazon.

This is the perfect toy for the budding engineer – and really any child with a growing imagination! Whether they copy the pattern cards or create their own figures and buildings, this toy set will strengthen hand-eye coordination, motor skills, spatial reasoning and creativity. And it's incredibly fun – even for adults! See them here on Amazon.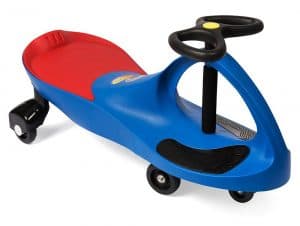 If you're looking for an alternative to a scooter or a tricycle, the plasma car is a fantastic choice. Your preschooler will want to spend hours outside driving on adventures and getting all that energy out (and without complicated gears, pedals or batteries!). See it here on Amazon.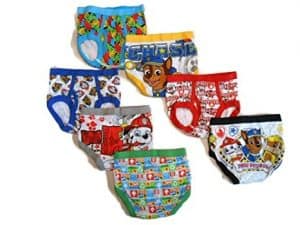 It's fun getting new sets of clothes – and your preschooler will love the prints on these underwear sets! And especially for a child whose mastering going to the potty on his own. They are colorful, bright and super comfy. See the set here on Amazon.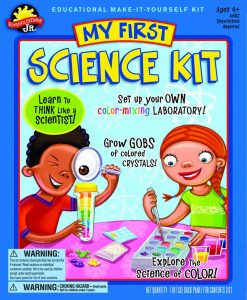 Who says science can't be fun for a preschooler? With "My First Science Kit," you have to opportunity to really spark his creativity and curiosity about how the things around him work. He'll get to experiment with rainbows, color mixing, crystals and more. See it here on Amazon.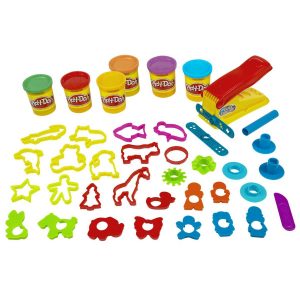 Play-Doh is the perfect age old indoor activity that is fun and engaging. It can really be a life-saver on rainy days too! This particular set comes with lots of tools that he'll enjoy using as he creates and masters his motor skills. See it here on Amazon.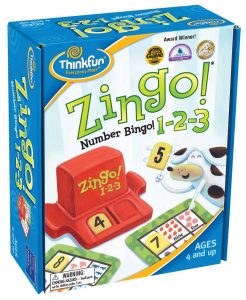 As your preschooler learns how to follow short instructions, he'll grow better and more confident in playing games like this one! It's a great tool to start introducing and mastering numbers, as it's structured just like bingo. See it here on Amazon. And if you're looking for another great game for preschoolers, Chutes & Ladders is a great choice!
Conclusion
Preschoolers are such a fun age to interact with as their curiosity and independence grow – and these toys are all great ideas for him. Everybody will enjoy them!
If you didn't find what you were looking for, be sure to check out Amazon's Most Wished For Preschool Toys and Amazon's Most Wished For Pretend Play Toys for all kinds of great options. And if you were looking for clothes, here are Amazon's Best Selling Preschool Clothes for Boys.
Happy Shopping!