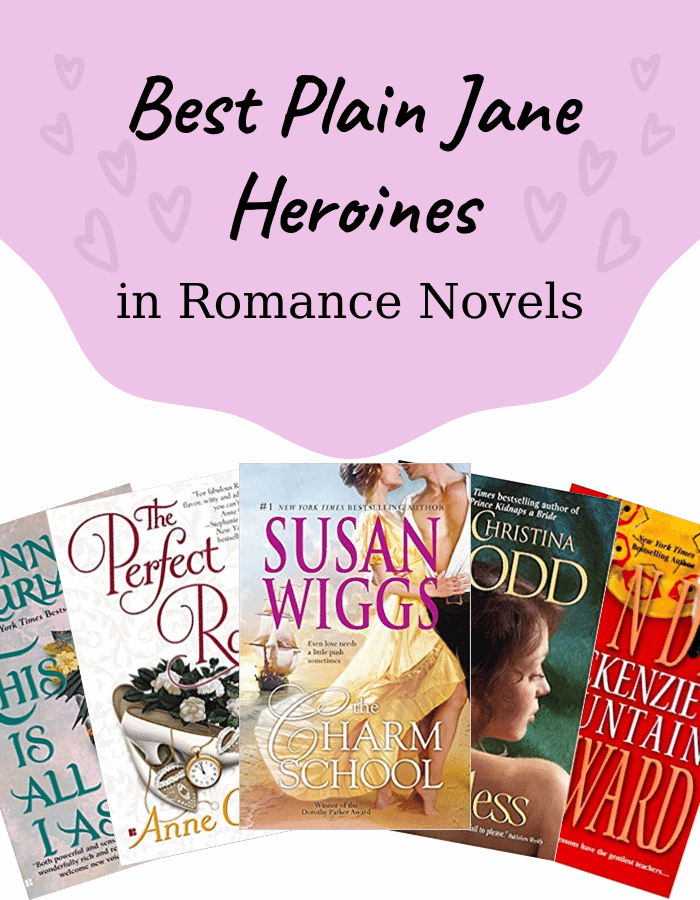 Interested in a romance novel for your next vacation? Or maybe you just need a great story to pass the time. Here's a list of the The Best Plain Jane Heroines In Romance Novels on Amazon. You're sure to find a thrilling, enjoyable read in this list!
The Devil's Heiress by Jo Beverley
"Her novels have been praised as 'stunning' by Publishers Weekly and 'exquisitely sensual' by Library Journal. Now, New York Times bestselling author Jo Beverley delivers another spellbinder…an intriguing tale of daring deception—and breathless desire." See it here on Amazon.
Claiming the Highlander by Kinley MacGregor
This is the second book in the MacAllister Series, and a compelling story. "To end a long running feud, a proud Scottish lass convinced the clan′s women to refuse their men everything." See it here on Amazon.
The Charm School by Susan Wiggs
Here's the first in the Calhoun Chronicles by the New York Times best-selling author Susan Wiggs. One reviewer put it this way: "She's the gauche misfit daughter of prominent Boston socialites. He's the "bad boy" abolitionist son of a slave-holding Southern plantation owner. Although they hate each other on sight, it soon becomes obvious to everyone except them that they need each other to reach their full potential…" And so the love story goes! See it here on Amazon.
Gifford's Lady by Claire Thornton
"Sir Gifford Raven was a man of action, not at all comfortable in Bath's polite society, which was why Miss Summers intrigued him. Beneath her shyness he detected an impulsive young woman who could help drive his devils away." This is the second book in the Raven Brother's Series. See it here on Amazon.
Highland Bride by Hannah Howell
Highland Bride is the 6th novel in the Murray Family Series. "Though she has yet to be courted by any man, spirited Gillyanne Murray decides the time has come to visit the dower lands gifted to her by her father's kinsmen. She arrives to find the small keep surrounded by three lairds, each one vying for her hand. . .and property. Though resolved to refuse them all, the threat of battle on her threshold forces her to boldly choose a suitor." See it here on Amazon.
Fallen by Celeste Bradley
"To save his inheritance, Lord Julian Blackworth must propose to a woman he would just as soon forget. Izzy Temple, spinster housekeeper, wants nothing more than her freedom. Together, they strike a deal to pretend an engagement until the fuss dies down." See it here on Amazon.
Scandalous by Karen Robards
As the first in the Banning Sisters series, we're swept away to 1800s England. "With this beautifully rendered romance, bestselling author Karen Robards begins a sweeping series about three unforgettable sisters poised to take the ton by storm." See it here on Amazon.
The Charmer by Celeste Bradley
"Collis Tremayne could make any female swoon; yet no one would guess the hidden desperation that drove him to become the most skilled spy in service to the Crown. All that stands in his way…is Rose Lacey, a confounding chit who manages to outsmart him with cunning and courage." Part mystery, part romance, this is book 4 of the Liars Club series. See it here on Amazon.
The Perfect Rake by Anne Gracie
"A phony engagement turns into real passion in this delightful Regency romance from award-winning author Anne Gracie." This is the first in the Merridew series. See it here on Amazon.
Hester Waring's Marriage by Paula Marshall
"When Miss Hester Waring found herself destitute and near total starvation, her rescue came from an unlikely source – Mr Tom Dilhorne, an ex-convict and now the richest man in Sydney, who needed a lady for a wife. Hester was undoubtedly a lady." This novel is the introduction to the Dilhorne Dynasty series. See it here on Amazon.
A Kingdom of Dreams by Judith McNaught
"#1 bestselling author Judith McNaught dazzles with this beloved romantic classic, "one of the best ever" (Rendezvous), in which two defiant hearts clash over a furious battle of wills in a glorious age of chivalry." See it here on Amazon.
Mistress For A Weekend by Susan Napier
"Nora Lang needs the most dangerous man she can find! Enter tycoon Blake MacLeod. He normally prefers sophisticated blondes that don't require too much of his brainpower. But Nora's a challenge…the perfect opportunity for a little light relief. Until she acquires some important information that he can't risk being leaked." See it here on Amazon.
Perils of the Heart by Jennifer Ashley
"Determined to seduce Austin Blackwell, the American captain of the Aurora, in order to save her stepbrother's life, British governess Evangeline Clemens finds herself immersed in a deadly game of passion and intrigue that leads to unexpected love." See it here on Amazon.
Taming The Highlander by Terri Brisbin
"Lady Jocelyn MacCallum had always believed she would marry for love. But the price of her brother's freedom was to become fearsome Connor MacLerie's new bride — a bargain that could cost Jocelyn her life. From the moment she looked into Connor's sternly handsome face, Jocelyn began to hope that the rumors surrounding his first wife's death were false. His reputation was as wild and untamed as the Scottish moors. Would she find a way to reach the man beneath that forbidding exterior?" See it here on Amazon.
This Is All I Ask by Lynn Kurland
Here's one from the de Piaget series by bestselling author Lynn Kurland. "Set near the Scottish border at a rugged castle on the edge of the sea, this is the story of a courageous lord who lost everything he held dear. Of a strong young woman willing to sacrifice everything for happiness. Two lost souls who find in each other a reason to live again, to laugh again, and to love for the first time." See it here on Amazon.
Bridal Favors by Connie Brockway
"Award-winning author Connie Brockway takes readers to the elegant drawing rooms and sprawling country estates of Victorian England in this captivating tale of a woman who must keep an irresistible nobleman's most scandalous secret—without losing her heart." See it here on Amazon.
Hummingbird by LaVyrle Spencer
"A bandit and a gentleman both vie for the heart of pretty Abigail McKenzie–and force her to make a choice that no woman should ever have to make." This New York Times bestselling author… "will leave you breathless!" (Affaire de Coeur). See it here on Amazon.
In Name Only by Janet Bieber
"A straitlaced spinster and a rugged ship's captain discover a passion that's anything but proper." An overall good read with lots of twists and turns. See it here on Amazon.
Lord Ruin by Carolyn JewelLord RuinLord Ruin by Carolyn Jewel
Here's the first in the Sinclair Sisters series. "When a night of fiery passion between the Duke of Cynssyr and Anne Sinclair forces them into an arranged marriage, the Duke soon finds himself falling in love with his spirited new bride, vowing to win her heart for all eternity." See it here on Amazon.
De Burgh Bride by Deborah Simmons
The second in the de Burghs series. One reviewer described it like this: "Deborah Simmons writes with lots of details and crafts her plots so that it is easy to get drawn into them. I feel as though I really get to know her characters and the motivation for their behavior. I thoroughly enjoyed Geoffrey and Elene's story. Elene was certainly not the typical heroine!" See it here on Amazon.
Mackenzie's Mountain by Linda Howard
"When spinster schoolteacher Mary Elizabeth Potter confronts Wolf Mackenzie in order to get Wolf's son back in school, she comes face to face with a bitter and dangerously attractive man still paying for a crime he did not commit." See it here on Amazon.
Tallie's Knight by Anne Gracie
"A destitute orphan, Thalia Robinson finds refuge as the nursemaid to her cousin Laetitia's three children, until the Earl of d'Arenville, the guest of honor at her cousin's house party, is attracted to Thalia's loving nature and sets out to woo her." See on Amazon.
Priceless by Christina Dodd
"When a shocking conspiracy threatens their lives, [Adam will] bring [Bronwyn] from the dangerous streets of London to the sweeping countryside—for he has seen enough of the world to know that a passion like theirs is priceless." See it here on Amazon.
Conclusion
A good story can certainly whisk you away to another land! These books are some of the best romance novels with plain-jane, ordinary heroines. You may also be interested in these Contemporary Romance Novels or these Inspirational Romance Novels.