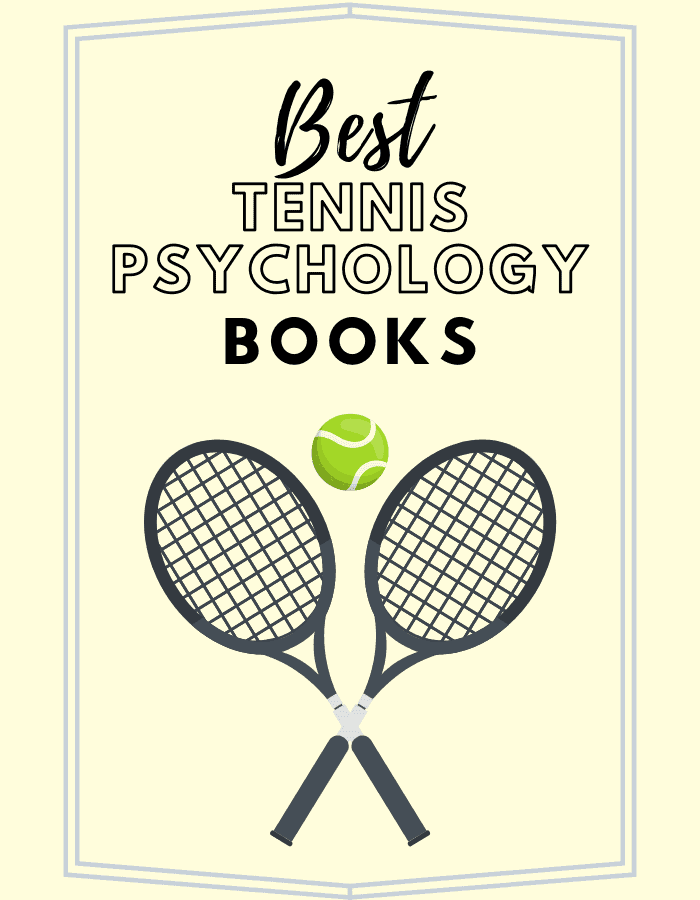 Are you looking for ideas to improve your tennis game? We all know that sports are just as much science & mechanics as they are art & skill, especially the dynamic game of tennis. Here's a roundup of the Best Tennis Psychology Books available on Amazon to help you out.
Game, Set, Match: A Tennis Book For The Mind by Charlie Jones and Kim Doren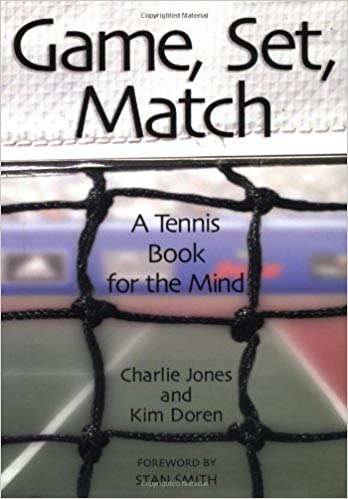 "Many of the biggest names in both men's and women's tennis, from champions of the Grand Slam tennis tournaments to their coaches and peers, appear within these pages. Each offers his or her unique pointers and philosophy about using the power of the mind to become the best tennis player you can. Everyone who is serious about tennis will want a copy of this book." See it here on Amazon.
Smart Tennis: How to Play and Win the Mental Game by John F. Murray, Ph.D.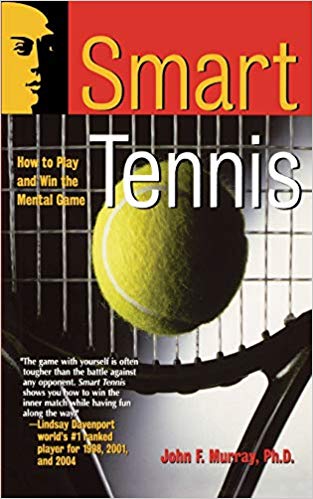 ""The game with yourself is often tougher than the battle against any opponent. Smart Tennis shows you how to win the inner match while having fun along the way," writes tennis star Lindsay Davenport.
See it here on Amazon.
Tennis: Winning the Mental Game by Robert Weinberg, Ph.D.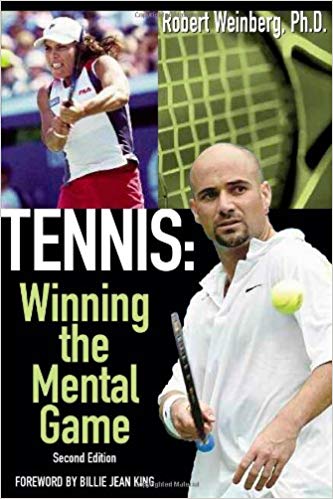 "Strokes do not necessarily win tennis matches. Often you have to win the struggle against yourself, rather than against your opponent. Therefore, the primary purpose of this book is to teach you the mental skills that will help you cope with the mental challenges that the game of tennis provides."
See it here on Amazon.
Tennis: Winning the Mental Match by Allen Fox, Ph.D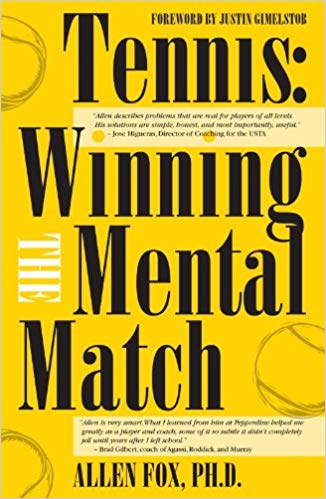 "Tennis is more difficult mentally than most other sports. Because of its one on one personal nature, it feels more important than it is. Competitive matches can become highly stressful, and losing is painful. Emotions tend to get out of hand, with fears and nerves becoming difficult to control. Confidence comes and goes; the scoring system is diabolical; everyone is at risk of choking, even the greatest players in the world. This book attacks these and other issues faced by players of all levels." See it here on Amazon.
The Inner Game of Tennis: The Classic Guide to the Mental Side of Peak Performance by W. Timothy Gallwey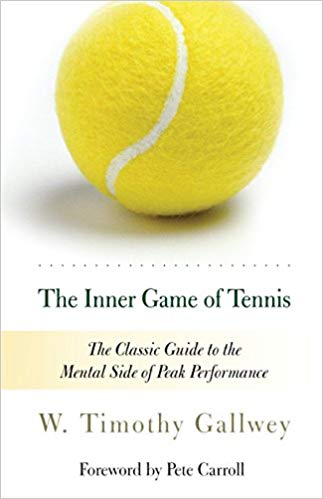 "This handbook works for anybody who wants to improve his or her performance in any activity, from playing music to getting ahead at work. W. Timothy Gallwey… reveals how to focus your mind to overcome nervousness, self-doubt, and distractions, [to] find the state of "relaxed concentration" that allows you to play at your best, [and to] build skills by smart practice, then put it all together in match play." See it here on Amazon.
The Tennis Psychologist by Adrian Lobley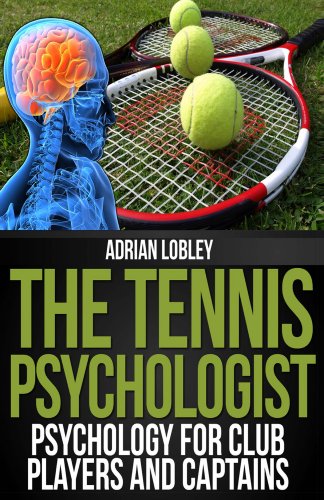 "Tennis is a highly psychological game and there are many areas within a person's tennis psyche that can be positively developed. This book covers the key aspects within tennis psychology and shows you how to gain the upper hand over your opponent in each area." See it here on Amazon.
The Art of War: Art of Tennis by Sky Kim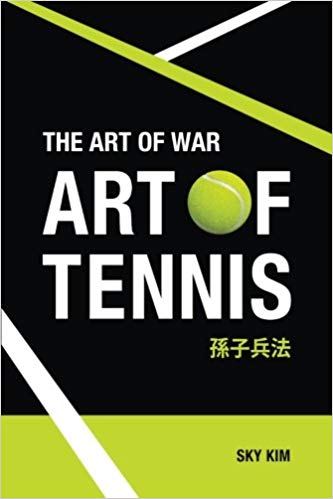 "From pre-planning, mental attitude, understanding the scoring system, anticipating opponents from their physical cues, anger management to decision making in the match, The Art of War: Art of Tennis will help readers understand the common difficulties of competitive tennis to mentally prepare parents, coaches, and players alike for the road ahead." See it here on Amazon.
Master Your Tennis Game: 50 Mental Strategies and Tactics by Ken DeHart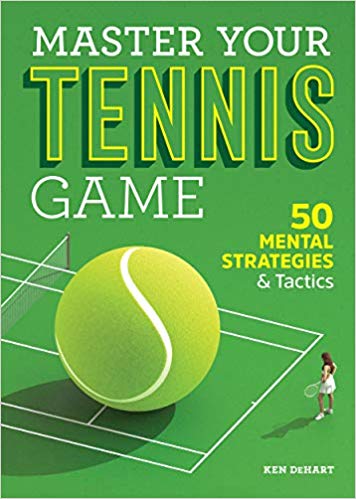 "Concise, fun, and easy to read, this book offers 50 practical and actionable methods that show you how to stay calm and concentrate during any tennis game. Even if your rival is tough competition, outsmart them with these targeted mental approaches." See it here on Amazon.
The Awakening in Tennis: The Best Mental Book for Tennis Players, Athletes, Coaches and Parents by José Antonio Casares-Falconi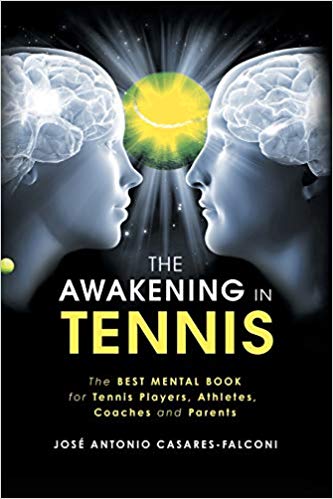 "Jose's extensive study of the greatest MINDS in history proves that all of those human beings knew all these Natural/Divine Laws and that's why they've had such an impact in our world. The Awakening in Tennis will change the way you see sports and life. It will force you to grow and make changes in the way you think by learning how to arrange your thoughts positively on a daily basis." See it here on Amazon.
The Mind of a Tennis Player: A Guide to the Mental Side of the Game by Steve Brady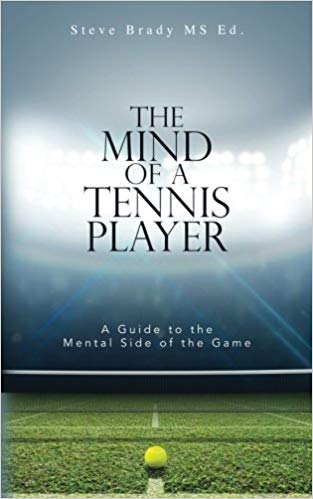 "Pulling from over four decades of experience as a competitive tennis player and teaching professional, author Steve Brady discusses the mental game of tennis and how to overcome issues with confidence, tension, and fear." See it here on Amazon.
Conclusion
There's a lot more to the game of tennis than a racket and a ball. Here's to improving your mental game!
We hope you found something in our collection of Best Tennis Psychology Books. You might also be interested in these Tennis Equipment Bestsellers or something off this list of Best Books about Tennis, which includes autobiographies, instructionals/guides and more!