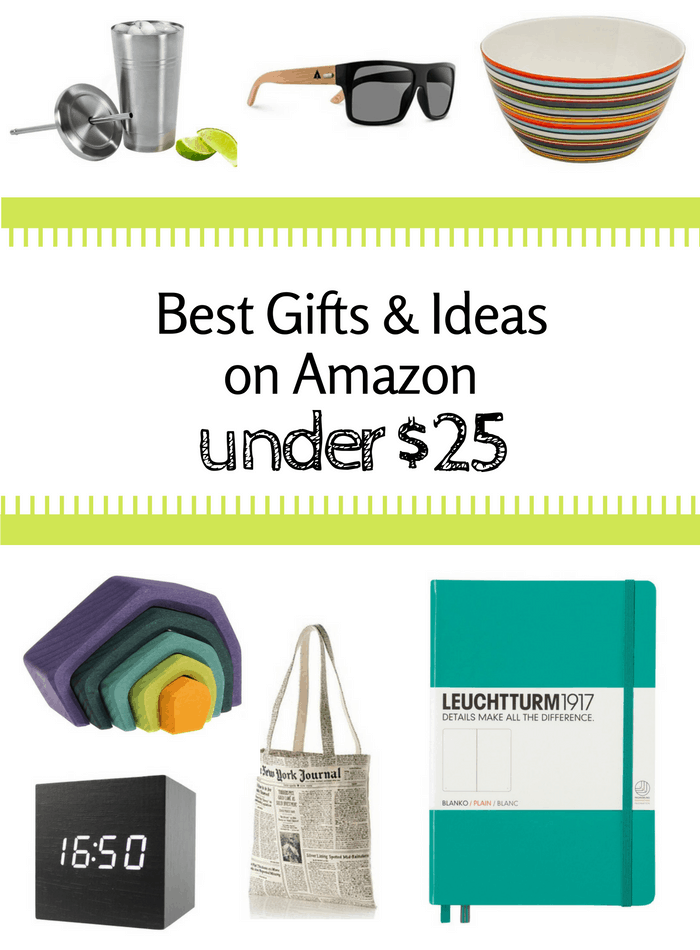 Usually when you're trying to find the perfect gift, the options are limitless. That's great and all – but it can also make it hard to know where to even start looking, especially when Amazon's never-ending inventory is right at your fingertips.
So here are some of our favorite quality, unique & creative ideas – a list of some of the best gifts and ideas on Amazon for under $25.
Ok, so this looks like a kid's toy – and it is. But before you skip to the next product, think about how awesome this would be on your desk! It's a simple and fun way to stimulate creativity and is interesting to look at too. Don't judge. This would make a great gift for people of all ages. See it here on Amazon.
Here's a practical gift for anyone who loves the outdoors. This pocket blanket will make your next trip to the beach, camping or picnicking so much more comfortable. It folds up super compact but it has plenty of space for 2, plus it's water repellant and puncture resistant. See it here on Amazon.
The name is a little intimidating, but this is one of the highest quality journals out there. It makes the perfect gift for a bullet journaler, an artist or just an obsessive list maker. It lays out flat even though it has a hard cover so writing is really a pleasure. See it here on Amazon.
Fig & Yarrow is known for having high quality, certified organic products, and this Gold Organic Clay Mask is no different. It works well for all skin types because you mix the product to suit your own needs and leaves your skin soft and clean. See it here on Amazon.
Ever heard of sustainable bamboo sunglasses? Well, now you have! These bad boys have a timeless design and high grade lenses that give 100% UVA/B protection. And since they are bamboo, they promote breathability for your eyes… no more sweaty eyes! See them here on Amazon.
If you're looking to stay away from all the harmful chemicals in plastic, this tumbler is for you! It's also incredibly durable and sleek. It's a great alternative to a thermos or to-go mug because it keeps beverages cool or hot – whichever one you have in the moment. See it here on Amazon.
This colorful set is a great gift because of how versatile and convenient they are. They make a great gift for a child or as a desk toy. Sometimes you just need to mindlessly play for a few minutes to get your work brain back on, am I right? And this is a great alternative to a game on your phone. See it here on Amazon.
Now here is the alarm clock of the future! Ok, maybe not, but the design and functionality of this clock is amazing. It's made from all natural materials and it can be plugged in or powered by battery. Plus, the light is bright enough to be seen – but not so bright it keeps you up at night. See it here on Amazon.
This is not just your average, crunchy tote bag – it's style and function with just enough flair. The design is very unique and the material and construction won't let you down whether your grocery shopping, going to class or work or even headed to the gym. See it here on Amazon.
Now here is a great gift that will surely be loved, especially for anyone who's a fan of cheese (glass of wine, anyone?). The natural slate is beautiful, durable and great for serving at parties or business events. It would make a fabulous Christmas or anniversary gift. See it here on Amazon.
Did you know that wild chocolate – the raw, unrefined, unprocessed & unsweetened type – is actually a superfood? Yes! It's full of antioxidants, fibers, protein, calcium, magnesium and more. Giving this as a gift means giving someone guilt-free chocolate happiness for days. See it here on Amazon.
Who doesn't need a phenomenal, colorful serving bowl in their life? This one fits the bill perfectly. It's a fun, creative bowl that's meant to be used – not just for display. And honestly, you could even use this for a big mug of cappuccino! See it here on Amazon.
Here's a great gift for someone who loves being in the kitchen – and the color will definitely brighten up the scene. The knives are high quality stainless steel that resist corrosion and tarnishing; the mats are durable and great for avoiding cross contamination. This bundle is a great wedding or housewarming gift. See it here on Amazon.
Yes, you read that right – a pen that is inkless. Technology will never cease to amaze you! This pen is made of anodized aluminum and can actually write on most surfaces. It leaves a nice gray line that doesn't smudge or erase. Such a cool gadget. See it here on Amazon.
Last but certainly not least is the perfect gift for a music lover. In fact, this speaker is waterproof so you can even take it in the shower or poolside without a worry! It's got an impressive design that allows you to suction or clip it wherever, and the sound is outstanding. See it here on Amazon.
Conclusion
There are some pretty cool products out there – and many of them make great gifts. The gifts on this list are some of the best gift ideas out there, but if you didn't quite find what you were looking for, be sure to check out Amazon's Most Wished for Food & Beverage Gifts and Amazon's Best Selling Toys & Games.