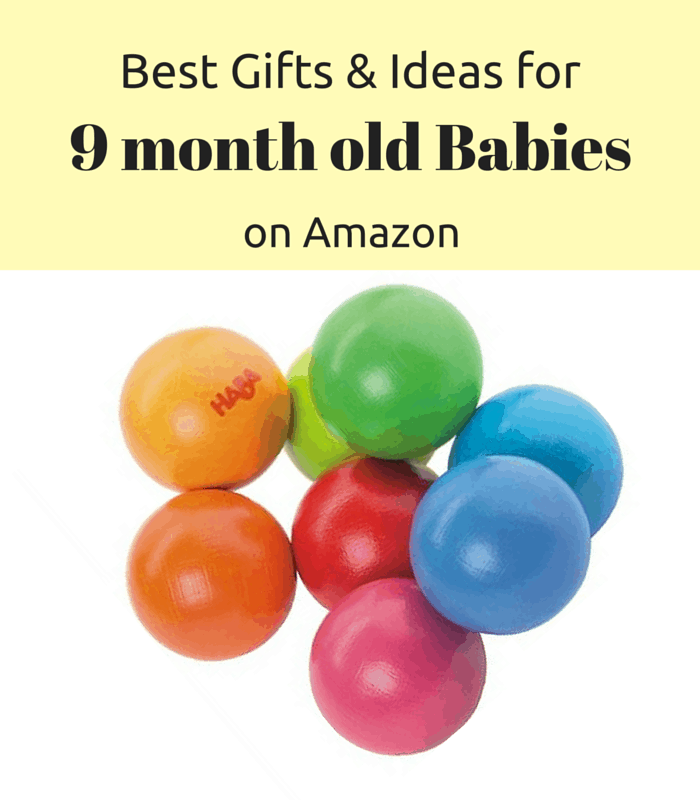 A 9 month old baby is generally on the move all the time – whether it's pulling him or herself up to stand, side-stepping along a table or the couch, crawling on all fours or just moving to a sitting position on his or her own. They love playing games like peek-a-boo and watching items as they fall, plus they are starting to use their thumbs and index fingers to pinch little things (and inevitably put them in their mouth…whether it's edible or not!)
Buying a gift for a 9 month old baby can be a fun thing – especially since they are at the age where they have a "favorite" toy. Yours could be their new favorite! Here's a list of some of the best gifts & ideas for a 9 month old baby on Amazon that will be engaging, fun and developmentally appropriate!
Haba Magical Clutching Toy
This non-toxic, wooden clutch toy is such a fun toy – it's bright colors are fascinating, and the balls are the perfect size for little hands to grasp (great for motor skill development). And it's non-toxic, so baby will be safe when he puts it in his mouth! See it here on Amazon.
Kid-O Tug Boat
This sweet tug boat is the perfect bath toy – it doesn't have any holes so you don't have to worry about the insides getting moldy! It's bright and smooth, and works perfect for sensory and motor skill development in the water (with adult supervision, clearly). It's also completely non-toxic. See it here on Amazon.
V-Tech Drop Go Dump Truck
What's not to love about this Dump Truck? It's bright and interactive – your 9 month old will love putting the "rocks" in the back and emptying it out again. Plus, it has buttons that play melodies and phrases that teach colors! See it here on Amazon.
Triangles
It may seem overly simple, but these little triangles are fun for a little one to hold and manipulate – it's also great motor skill practice as they twist and turn in different directions. They are safe and non-toxic, so it's ok for your 9 month old to put them in his or her mouth. See it here on Amazon.
One Two Squeeze Blocks
These blocks might be the most durable and exciting blocks on the market. They do pretty much everything that a 9 month old could want – They are squeezable, stackable, sortable, floatable and chewable! The animal images are adorable, and the colors are fun and bright. See them here on Amazon.
Noggin Stick Baby Toy
This cute toy is great for many reasons – and with that smiley, who could resist it? It's the perfect size for grasping and a wonderful sensory play toy (visual, tactile and auditory stimulation). It's a go-to if you know your little one already loves rattles. See it here on Amazon.
Sassy Developmental Bumpy Ball
Most 9 month olds love color and texture, and when it's combined with a ball you know it's a winner. The bright colors and bold patterns are captivating. It's easy to hold onto and it encourages parent-child interaction through rolling or tossing games. See it here on Amazon.
Baby's First Blocks Bundle
This is a great bundle offer – the sorting blocks and stacking rings. Both of these are perfect toys to engage a 9 month old's interests and developmental stage. You can't go wrong with these colorful & classic toys. See them on Amazon here.
Fishbowl Fill and Spill
This clever fishbowl set is one of the best toys on this list. It incorporates so many developmentally appropriate aspects like textures, colors, sorting, & emptying in a creative, engaging way. Your baby will be mesmerized as she or he investigates the cute little sea creatures for hours. See it here on Amazon.
Stacking Cups
This is THE classic older infant toy – and there's a reason why. They absolutely love stacking cups and sorting them and putting other toys inside them. And these cups even work well as bath toys! These are a must-have. See them here on Amazon.
Stackable Teething Rings
These soft silicone teething rings make a great gift because they are so versatile. The rings are bright and fun to hold, safe to chew on, and easy to stack. Plus they have lots of different patterns and textures, so it's a great sensory play toy as well. See them on Amazon here.
Rattle & Roll Car
Your baby will love playing with the Rattle and Roll Car – it's so easy for them to grasp and the bright colors are hard to resist! It's completely non-toxic, so it's ok for teething – and the rattle in the wheels adds a fun little noise. See it here on Amazon.
Cartoon Animal Push Cars
They are adorable right? The cute faces and colorful designs of this animal car set is bound to keep your baby's attention. And their heads move side to side as they roll! These little guys will last a long time, too – they are very durable. See them here on Amazon.
Other Resources
9 month olds are an incredibly fun age full of exploration and milestones. Soak up every minute of playtime you have with your little one with some of these gift ideas.
Didn't find what you were looking for? Here's a list of Amazon's best-selling Stacking & Nesting Toys and Amazon's best-selling balls for babies.