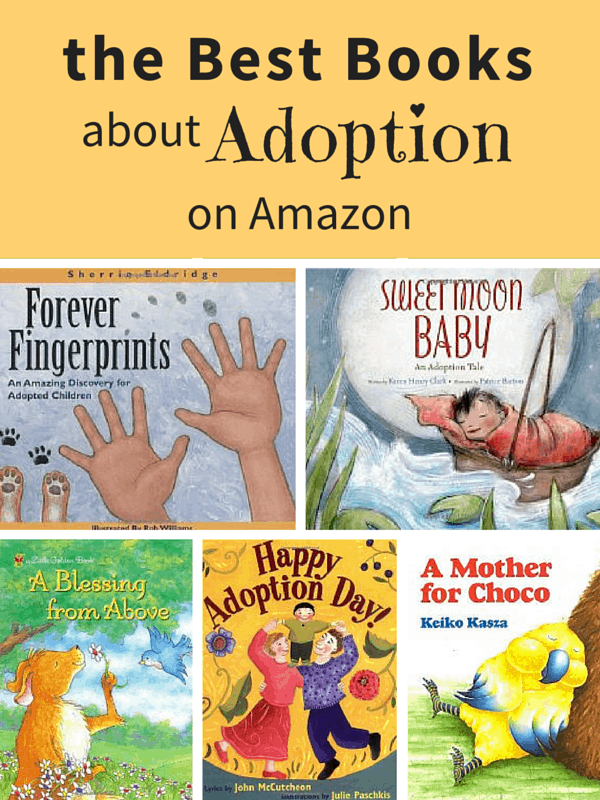 Adoption is a beautiful way to grow a family, and has increased significantly around the world since the 1970s. Whether it's a desire to make a difference and provide for a child in need of a family, struggles with infertility, religious reasons or a host of other motivations, the reality is that over 130 million children worldwide are looking for forever homes. But – bringing an adoptive child home or explaining what adoption is to any child can be a difficult task. Here are some of the Best Children's Books about Adoption on Amazon to help engage your children in conversations about adoption.

Star of the Week: A Story of Love, Adoption, and Brownies with Sprinkles by Darlene Friedman, Roger Roth

This is a sweet story about an girl who has been adopted – and it's a lovely, honest book that touches on explaining adoption to friends at school. Find it here on Amazon.

Tell Me Again About the Night I Was Born by Jamie Lee Curtis & Laura Cornell

This is a precious story about a somewhat difficult subject – but Jamie Lee Curtis handles it well, emphasizing the love and happiness that a couple finds in having a child. The illustrations are fun and whimsical too. Find it here on Amazon.

God Found Us You by Lisa Tawn Bergren & Laura J. Bryant

This is a wonderful read that isn't geared toward any specific type of adoption like international or infant adoption. The story is told in a conversation style between Mama Fox and Little Fox, and delicately touches on several important questions. It also beautifully weaves in God's plan for all of us. Find it here on Amazon.

Adoption Is for Always by Linda Walvoord Girard & Judith Friedman

This is a great choice for kids who are struggling to understand adoption and all the crazy emotions that go with it – anger, fear, etc. The story is very realistic, and promotes unconditional love and value in a forever family setting. Find it here on Amazon.

Forever Fingerprints: An Amazing Discovery for Adopted Children by Sherrie Eldridge & Rob Williams

This is a creative, unique look at adoption…and fingerprints that are a "gift" from your biological family. The centers around the pregnancy of a relative, and can be a great conversation opener between you and your child. Find it here on Amazon.

My Adopted Child, There's No One Like You by Dr. Kevin Leman & Kevin Leman II

This is an adorable story with cute, colorful illustrations. The story is a loving, sweet explanation of adoption and tastefully works through a difficult subject. Find it here on Amazon.

Red in the Flower Bed: An Illustrated Children's Story about Interracial Adoption by Andrea Nepa

This is a rich story that depicts interracial adoption so well with it's illustrations and carefully crafted words. And since it's centered around flowers and seeds, it can open up a diverse number of conversations about things outside of adoption like nature, our identities and belonging. Find it here on Amazon.

My New Family: A First Look at Adoption by Pat Thomas & Lesley Harker

This is a great book that helps explain adoption so well to younger kids – it focuses on how lucky the parents are to have such a special child. Find it here on Amazon.

Did My First Mother Love Me?: A Story for an Adopted Child by Kathryn Ann Miller & Jami Moffett

This book is a short and touching story that will help you guide your adopted child through their natural feelings of loss. Adoption can be a difficult subject to talk about with youngsters, and this book is the perfect springboard. Find it here on Amazon.

My Family, My Journey: A Baby Book for Adoptive Families by Zoe Francesca & Susie Ghahremani

This is a precious keepsake for your family – it's a baby book style book with an adoptive twist so that you can fill the story in as you go. It has beautifully crafted pages with titles such as "What We Know About Your Birth Family", "People Who Helped Us Find You" and "How We Celebrated". Find it here on Amazon.

Why Was I Adopted? The Facts of Adoption With Love and Illustrations by Carole Livingston

This might be the most comprehensive, broad-based book on this list. It's an excellent tool with beautiful illustrations that will help you and your child walk through the many emotions and questions about adoption. Plus, this book includes all types of scenarios, so it's easily relatable. Find it here on Amazon.

Megan's Birthday Tree: A Story about Open Adoption by Laurie Lears & Bill Farnsworth

This is a refreshing children's book focused on open adoption that has an actual plot, not just a short story explaining adoption. Megan, the main character, also deals with age appropriate emotions, which can be a great start to conversations with your own child. Find it here on Amazon.

The Mulberry Bird: An Adoption Story by Anne Braff Brodzinsky & Diana L. Stanley

This is a sweet story to use with older children who have started asking questions about their birth parents. And because it is a more generic story, it can be useful for a foster to adopt situation too. This is definitely one of the top books on this list. Find it here on Amazon.

A Blessing from Above by Patti Henderson & Elizabeth Edge

This is another clever, heart-warming adoption story with fabulous illustrations. The story is written from the perspective of parents wanting a child, so it emphasizes the deep love and value adoptive parents have for their children. The author explains adoption in a simple, yet excellent way. Find it here on Amazon.

Sweet Moon Baby: An Adoption Tale by Karen Henry Clark and Patrice Barton

This is a beautiful tale of an international adoption that poignantly includes both sides of the story, the birth parents and the adoptive parents. The story is calm and gentle, and illustrates the love and expectant hope of adoption. Find it here on Amazon.

How I Was Adopted by Joanna Cole & Maxie Chambliss

This is a complete, cheerful book that tells a sweet story about adoption. It covers so many topics in one little story that it is the perfect conversation starter with your little ones. It also emphasizes the uniqueness of all adoption stories, so it' almost universal. Find it here on Amazon.

Oliver: A Story About Adoption: Lois Wickstrom, Priscilla Marden

This is not your typical adoption story, but it's an excellent choice! It's unique story is great for all ages, and emphasizes love over "looking like your parents." Find it here on Amazon.

The Day We Met You by Phoebe Koehler

This is a simple and beautiful story that captures the anticipation, excitement and love felt by adoptive parents to welcome their new child. Because of the sweet simplicity of this story, it encourages and fosters great conversation with your little ones on adoption and their own stories. Find it here on Amazon.

You're Not My Real Mother! by Molly Friedrich & Christy Hale

This nicely illustrated book is especially great for interracial adoptions. The simple story is geared toward younger children and emphasizes that family goes far deeper than looks. Find it here on Amazon.

Let's Talk About It: Adoption by Fred Rogers

This children's book is very sensitive and broad, yet it explains the difficult concept of adoption so well. It might be one of the longer books on this list, but the pictures and stories within this book are so worth it. Find it here on Amazon.

Happy Adoption Day! by John McCutcheon & Julie Paschkis

This is indeed a happy book – the illustrations are marvelous and bright, and the book is in song form! It's the perfect way to introduce adoption because of the positive message of love and belonging. Find it here on Amazon.

A Mother for Choco by Keiko Kasza

This is one of the best toddler-friendly books out there on adoption, and it is especially wonderful for interracial adoptions. It's a sweet, sweet story with cute illustrations. This is definitely one of the best on the list. Find it here on Amazon.

A Sister for Matthew by Pamela Kennedy

This is an adorable story that works really well as an introduction to adoption to siblings. The story centers around an interracial adoption, but it works well for all types because of how sensitive the author writes the story. The illustrations are absolutely charming! Find it here on Amazon.

Welcome Home, Forever Child: A Celebration of Children Adopted as Toddlers, Preschoolers, and Beyond by Christine Mitchell

This story is unique because it centers around a child who is not an infant when he's adopted. It's a meaningful, sensitive story that inspires and encourages happy adoptive families. Find it here on Amazon.

This is How We Became a Family: An Adoption Story by Wayne Willis

This story is a compassionate look at adoption – and the author tracks the story from both sides, adoptive and birth parents. The illustrations are pretty unique and the book works well as a springboard for having conversations with your little one about a difficult topic. Find it here on Amazon.

I Wished for You: An Adoption Story by Marianne Richmond

This charming story is a nice, simple introduction to adoption that works for most situations. It focuses on how they became a family, and is a sweet reminder that adoption means love and belonging. Find it here on Amazon.

Family Day: Celebrating Ethan's Adoption Anniversary by Christine Mitchell

This is a fabulous resource for any families adopting older children or fostering-to-adopt. It concludes that adoption is a special but completely normal way to become a family, and in fact, celebrates it! Find it here on Amazon.
The Best For You by Kelsey Stewart

This is a fun, affirming story about adoption that will help you and your child have some really special conversations. And since it's from the perspective of the birth mother, it's a personal, kind message that will help you child understand a really difficult concept. Find it here on Amazon.
I Love You Like Crazy Cakes by Rose A. Lewis & Jane Dyer

This is a fabulous addition to your family library! It's a sweet, compelling story about interracial adoption, and the illustrations are stunning. Find it here on Amazon.
Rosie's Family: An Adoption Story by Lori Rosove

This simple story is cute and very easy for children to understand – in fact, since the story is based from a puppy's perspective, most kids are immediately engaged! An excellent choice. Find it here on Amazon.

Over the Moon: An Adoption Tale by Karen Katz

This book stands out, not just because of it's gentle, heart-warming story, but because of it's vibrant, beautiful illustrations. This book is especially meaningful to families with interracial adoption experiences. Find it here on Amazon.

The Red Blanket: Eliza Thomas, Joe Cepeda

This is the perfect book for younger children since it's message is simple and sweet. It works well for all types of adoptions, but especially international adoptions. Find it here on Amazon.

Adoption is a beautiful and special way to form a family – and adopted children should know the love, beauty and significance that their story contains!
If you're looking for more children's books on difficult topics, check out Children's Books about Divorce, Children's Books about Autism and Children's Books about Juvenile Diabetes.