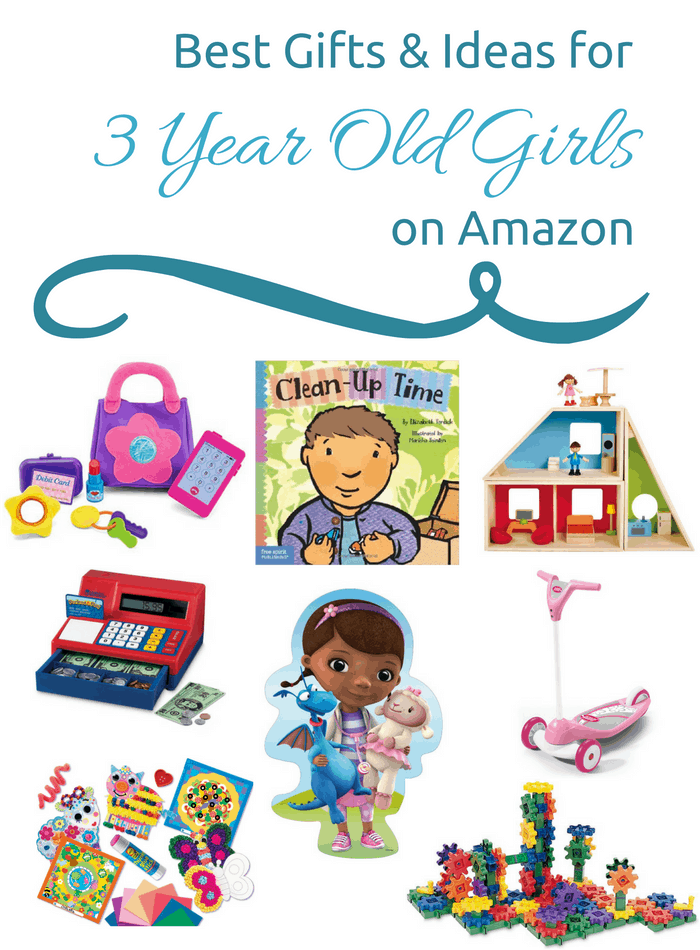 Your toddler isn't just growing physically – her little mind is rapidly growing in everything from fine motor skills like learning to zip jackets and push small buttons to cognitive understanding that allows her to participate in make believe and copy you and her friends. It's a fun and fascinating time to be in a 3 year old's world!
Her ever-changing mind and interests make it hard to find toys that will be fun, educational and engaging – So here's a list of the Best Gifts & Ideas for 3 Year Old Girls on Amazon.
This cute Doc McStuffins floor puzzle will be a ton of fun for your 3 year old girl – the big picture and pieces make for easier manipulation and assembly. It's truly the perfect size. And, it makes a great gift for a little Doc McStuffins fan! See it here on Amazon. And if your little one is more into animals, check out this Animals of the World jumbo puzzle.
Pretend play is a winner for most toddlers – and this doctor's kit will definitely be a hit. The set includes everything from pretend bandages to a stethoscope, thermometer and more! Your little doctor or nurse will have everybody fixed up by supper time. See it here on Amazon.
Believe it or not, your little girl is on her way to being fast & coordinated on the move. This scooter is designed especially for her age group with it's wide base for more stability and three wheels for a little help with her balance. Now here's a great toy for the outdoors! See it here on Amazon.
Here's another fabulous pretend play set that gives your 3 year old everything she needs for an outing to the bank, work or the grocery store! The adorable flower purse comes with a cellphone, keys, wallet & more. It provides enough items to be engaging without being too overwhelming, which is perfect for her imagination! See it here on Amazon.
A cash register set like this is a fabulous toy that can double as a teaching tool and even grow with your child! It helps them learn and imitate real life scenarios & also gives them the perfect opportunity to practice simple counting and sorting. As they grow, it can be a great introduction to simple math. See it here on Amazon.
It's never too early to foster a love for reading and curiosity about the world around us – your child is absorbing so much information and learning all the time! Highlights Five is a fun, engaging tool that focuses on her cognitive development by giving you activities to work on together like games, puzzles, crafts, recipes and short stories. And it's created just for toddlers! See it here on Amazon. And here are two other fabulous options – National Geographic Little Kids & Ranger Rick, Jr.
Practicing memory is another fun, yet educational activity – and this Dr. Suess matching game is perfect! The illustrations are cute and memorable, and your little girl will love finding the right pairs. It also encourages self-confidence, taking turns & playing together. See it here on Amazon. Here's a fantastic Alphabet Memory Game too.
This colorful gears set is perfect for your little engineer! It boosts motor skills, reasoning & logic while encouraging creativity; plus, it's great for sorting, grouping & counting. You'll be surprised with the amazing designs and creations your child comes up with. See it here on Amazon.
3 year olds are starting to understand concepts like taking turns and following simple directions, so this ABC game will certainly engage her mind and provide a fun activity to play together. The illustrations are colorful and bright – and it's a fun way to learn the alphabet. See it here on Amazon. And here is another fun ABC game: Alphabet Cookies.
This brightly colored cookware set is great for imaginary play – your little girl can even pretend to cook with you! The set is the perfect size for little hands & is incredibly durable. She'll love using this set & her own creativity to make some interesting dishes. See it here on Amazon.
Every toddler needs a little dollhouse! This particular dollhouse is amazing because the separate rooms allow for endless combinations of rooms & designs – and there are truly no limits on the fun she will have in her imaginary world. See it here on Amazon.
Play-Doh is another classic – and works wonders when you're stuck inside on a rainy day! The tools that come with this set give your little girl tons of room for her imagination and creativity, and it's also a great activity for quiet play or playing together. See it here on Amazon.
Your little girl's creativity and imagination are at an all time high! This arts and crafts busy box is the perfect way to capture her ideas. She could be the next big artist – who knows?! The set includes everything from buttons and feathers to crayons and glue…and literally everything in between. See it here on Amazon.
Having your own space is pretty empowering, right? With this playhouse tent, your little girl can escape to play on her own, or even use the tent as an imaginary world! It's easy to set up & the mesh window and flap door make for a lot of fun. See it here on Amazon. Here are two other fabulous choices: Food-truck Tent & Enchanted Forest Tent.
It's never too early to foster a love for reading and learning with your toddler. This book will not only help your little one to find her love for stories, but also teach her the importance of cleaning up. The delightful illustrations make the story come alive too. See it here on Amazon. Another fantastic book in the same series is Hands are Not for Hitting.
Conclusion
Your sweet little girl will not be able to get enough of these fun, developmentally appropriate toys – and you'll probably love joining in too! But if you didn't find what you were looking for, be sure to check out Amazon's Most Wished For Early Childhood Books and Amazon's Best Selling Pretend Play Toys.