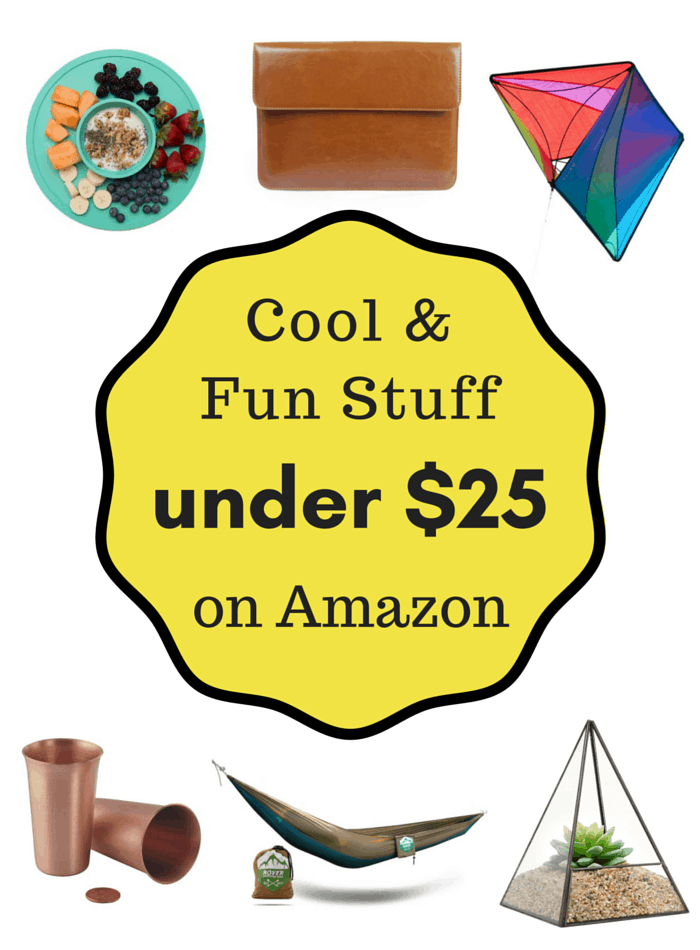 What do baseball games, theme parks, mani/pedis and Amazon all have in common? Cool, fun stuff for under $25!
In all seriousness though, Amazon has a ton of amazing products – which doesn't come as a surprise to anyone. But some of these cool, fun products will surprise you with their fabulous prices. Here is a list of Cool & Fun Stuff on Amazon for Under $25.
Hands Salad Bowl
This bowl is straight up just cool looking. It's made of a solid material and it has "serving hands" integrated into the design, which makes it practical too! What a fun conversation piece for your next potluck. See it here on Amazon.
Microfiber Hair Towel
Here's a cool way to dry your hair without using hair-damaging tools like a blow dryer. It's so effective – especially for anyone with curly or thick hair. It's soft to touch, quick-dry and super absorbent…and what a way to cut down on your morning routine! See it here on Amazon.
Accessory Tree
Looking for a fun way to store and display your jewelry? Look no further than this cool Accessory Tree! It's beautifully crafted out of steel & natural wood with a tray at the bottom to hold all your little pieces of jewelry. It makes a wonderful addition to anyone's vanity. See it here on Amazon.
Double Dish
Here's another cleverly designed serving dish to add to your kitchenware. It's specifically designed for serving things like nuts, olives or edamame so that you can easily discard the shells or pits into the bottom dish – but it can be used for so much more! It looks cool as one piece or as two separate dishes. See it here on Amazon.
Stainless Steel Water Bottle
This water bottle makes a statement with it's sleek, cool design – and it's absolutely worth looking into. The cap acts like an air-lock to keep your beverage from spilling, plus the mouth is designed big enough to comfortably drink, yet small enough to avoid large splashes. See it here on Amazon.
Wall Dot Vase
If you're looking for a splash of design and color in your space, try this Wall Dot Vase. It truly inspires delight – something so simple and sweet. It's almost an art sculpture in itself, and it available in a ton of colors. See it here on Amazon.
Coconut Milk Bath Soak
Coconuts are one of the most versatile fruits on the planet – and this bath soak will leave you loving life and coconuts. It'll leave your skin feeling so soft and hydrated, plus it's completely natural – No harmful chemicals here. See it here on Amazon.
Productivity Planner
If you're looking for a fun way to boost productivity – but you're tired of all those complicated journals and systems that just leave you feeling defeated – this planner is for you! It's so simple to follow and will really help you stay on top of what's important. See it here on Amazon.
Pyramid Terrarium
This is the coolest planter ever. It's elegant and modern and intriguing – and it will add the perfect touch to your space. You can use it as a planter for small plants like succulents, cacti or air plants or it can double to display any other small objects. See it here on Amazon.
Snack Mat
Here's a fun way to serve snacks – on a combined bowl and mat server. It's perfect for serving snacks that have dips like fruit, veggies or chips. It's made of silicone, so it's a breeze to clean up – and it reduces party-fail spills! See it here on Amazon.
Box Kite
Kites are still a thing – and they are so fun! It can be a competition or just for fun, but you will totally love this! This particular kite comes ready to fly with the flying line, winder & a convenient carry case. It's pretty big too! See it here on Amazon.
Wooden Push Pins
You don't have to settle for boring pushpins any more. These geometric wooden push pins are such a fun way to spice up your bulletin board at work or home. They are even strong enough to work with drywall. They are interesting to look at and oh-so-practical. See it here on Amazon.
Portable Hammock
If you're looking for a phenomenal alternative to those expensive portable hammocks like eno, here's a great pick. This one is made of sturdy, high quality nylon, plus it comes with all the gear you'd need for a portable hammock: ropes, carabiners and a stuff sack. This is a cool way to relax in the great outdoors. See it here on Amazon.
Ball of Whacks
Now this is a fun way to spend your time! It's a thousand times more fun than a rubix cube because there are so many different shapes and designs you can create with this wacky toy. It's also a great gift for all ages. See it here on Amazon.
Bamboo Cutting Board with Removable Mats
This cutting board is leaps and bounds better and cooler than the others. It's not just a solid piece of bamboo – this one comes with 7 removable, flexible chopping mats that make for easy transferring and cleaning. It's an all-around cool product. See it here on Amazon.
Copper Cups
Here's a fun way to change your drink up – out of a 100% copper cup! These guys look very cool and they work well wherever you are…the office, home, camping, on a picnic. Technically they are shot glasses, but they are so much more than that. You could even use them for holding pens or toothbrushes! See them here on Amazon.
Soft Leather Laptop Case
This beautiful leather laptop case will boost your cool factor up a few notches for sure. It's sleek design is irresistible, and it several different slots to organize all of your accessories. The soft leather is water resistant, so it also doubles as protection for your computer. See it here on Amazon.
Bag Resealer
Really? Who needs a bag resealer, you ask? You do. I do. We all do. Think about it – all those half used bags of chips and frozen veggies. This fun little product will keep all of your food fresh for you! It's so easy to use – and you'd be surprised to see all the other little uses for it. See it here on Amazon.
Never Soggy Cereal Bowl
This is by far the most random cool product on Amazon – and everybody is thinking "Why didn't I think of that?" Nobody likes soggy cereal, and with this awesome bowl, every bite is as fresh as the first. It's also great for cookies & milk or chips and dip. See it here on Amazon.
Conclusion
Now you know that Amazon has stuff that is affordable – and cool and fun too! No wonder they are the world's top online store!
If you didn't find what you were looking for, be sure to check out Amazon's Best Selling Watches and Amazon's Most Wished For Office Products – there are some pretty neat products out there!