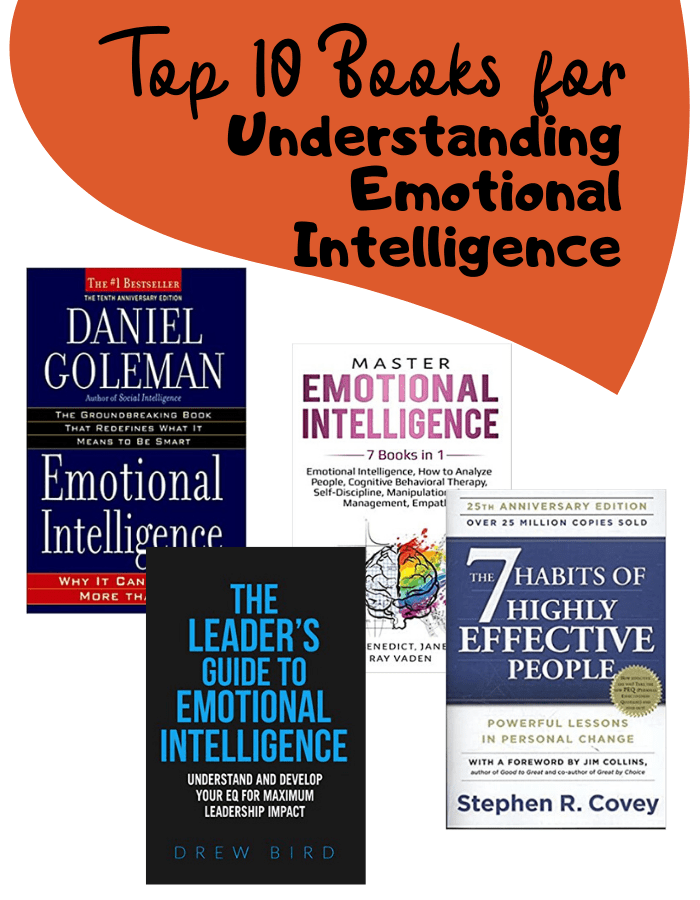 Emotional intelligence is a valuable concept to study throughout our lifetime because it is the key to creating meaningful relationships. If you can figure out how to understand people, you can open excellent opportunities professionally and personally. Emotional intelligence is more than understanding others, but it is self-awareness and the ability to manage yourself and your emotions.
In this article, we provide you with the ten best books on emotional intelligence, which will give you critical insights into handling yourself and others. Emotional intelligence requires a lifelong journey of learning and research, and this list of books will provide you an excellent foundation to begin.
Christopher Connors' Emotional Intelligence for the Modern Leader gives you the tools and resources to transform, understand, and improve people's lives. The book outlines the top characteristics of what makes a high-EQ leader. Some vital lessons and exercises help you build empathy and increase self-awareness in all types of interactions.
After reading this book, you will have a clear idea of how leadership and emotional intelligence feed off each other. You will also understand your inherent leadership style and how you can use emotional intelligence to influence others. Find it on Amazon.
Emotional Intelligence 2.0 by Travis Bradberry, equips you with the skills to succeed in today's workplace with a high EQ. This book provides simple and straightforward chapters on self-awareness, social awareness, self-management, and relationship management. Each topic is explained clearly and how it fits into the overall picture of emotional intelligence.
Bradberry does an excellent job of formatting the book in a way that is easy to understand. He includes the top lessons and takeaways from each chapter so that you can reinforce the concepts. This book enables you to grasp all EQ elements and how each one fits into your professional and personal life. Find it on Amazon.
Robert Eastman's Emotional Intelligence Mastery Bible includes seven books that focus on the key elements of EQ. The book provides knowledge on how you can understand your leadership skills to elevate your decision making and EQ. You will also learn how to analyze people through body language by diving into the guide inside.
The book also gives glimpses into the dark side of emotional intelligence, covering dark psychology and manipulation. Overall, you will understand how to resolve conflicts, motivate others, communicate to all personality types, and deal with stressful events effectively. The goal of Eastman's book is to help you figure out your full potential for influencing others. Find it on Amazon.
Dale Carnegie's How to Win Friends and Influence People focuses on how to manage yourself and the way you interact with others via emotional intelligence. Carnegie provides you critical nonverbal gestures that you can utilize to build rapport through people and grow closer with them. You will learn how to use facial experience, verbal nudges, and other question-asking techniques to understand a person indeed.
Carnegie also simplifies concepts so that you can implement and practice them. The book walks you through sections on how to get people to like you, win people to your way of thinking, and motivate others to fulfill specific actions. Overall, you will feel smarter in interacting with people after diving into Carnegie's timeless classic. Find it on Amazon.
Edward Benedict's Master Emotional Intelligence: 7 Books in 1 helps you learn emotional intelligence with a direct method of learning that enables you to navigate through all things EQ. You will learn what the basic concept of emotional intelligence is. Self-awareness is also covered, and it explains how you can utilize your feelings to convert them into productive actions.
The book also does an excellent job of outlining how you can adequately control your negative emotions. Some lessons and exercises help you shift your outlook on life into a positive one. Benedict's set of books also coaches you on becoming a better leader through emotional intelligence. Find it on Amazon.
Daniel Goleman's Emotional Intelligence: Why it Can Matter More than IQ utilizes the opinions of neuroscience and psychology to explain the difference between the emotional and rational mind. The book focuses on how these two ideologies shape how humans make decisions, evolve, and make meaningful change in this world.
Goleman explains why people with high EQ perform better than those with high IQs. The book goes in-depth and how high levels of self-discipline, empathy, and self-awareness correlate with smarter people in life and business. After reading this book, you will understand how emotional intelligence can improve over time. Find it on Amazon.
The 7 Habits of Highly Effective People by Stephen Covey outlines the fundamental principles in private and public victory. The book explains that we must master ourselves and gain clarity about our lens of the world. Once we do this, we can influence other people and impact meaningful change. Covey gives you insights on how to be more proactive, develop a more goal-oriented mind, and set your priorities right.
In the "public victory" section, Covey goes in-depth and how you can properly negotiate with others. Humans must understand the inner workings of others before they can try to be understood, and the book hammers this point home. Overall, this book provides a clear blueprint on how we can master ourselves so that we can learn our relationships with others. Find it on Amazon.
Bento Leal's 4 Essential Keys to Effective Communication in Love, Life, work provides a clear "how-to" book on breaking through communication barriers to create valuable relationships. The unique feature of this book is how interactive it is. At the end of each chapter, you will find actionable items and self-review quizzes to reinforce the material.
The book also helps you develop listening skills to gain empathy for others. It also enables you to reframe your conversations to create a 2-way dialogue built on mutual agreement. There are also critical insights in dealing with conflict and expressing gratitude to help develop emotional intelligence. Find it on Amazon.
The format of this book is different because it compiles ten of the best articles on emotional intelligence thought leaders. These writings get chosen from the best of the best in the archive of Harvard Business Review. The book helps you in managing your emotions and moods to convert it into something positive.
This reading also helps you react more maturely and thoughtfully to tough situations. You will also have a more precise vision of your strengths, weaknesses, values, needs, and goals after asking the questions posed in the book. Overall, you will gain the necessary emotional intelligence tools to excel in life and business. Find it on Amazon.
Drew Bird has developed meaningful relationships with leaders in many sectors and industries. He communicates his key takeaways from those interactions in his book, The Leader's Guide to Emotional Intelligence. The book explains how you can convert self-management and relationship-management emotional intelligence into meaningful results in work and personal life.
If you are learning emotional intelligence, Drew's book also provides you a simple step-by-step process to begin an EQ plan from the beginning. You will learn how to eliminate negative thoughts, appreciate other people's skills, and make more thoughtful decisions using emotional intelligence. Find it on Amazon.
As you can see, many valuable books will help raise your emotional intelligence. Our favorite from the list is Stephen Covey's 7 Habits of Highly Effective People. It provides the most evident blueprint on how to master yourself through private victory. It also outlines critical sections in winning with people by giving real-world examples with clear, timeless principles that will always be effective. Find it on Amazon.