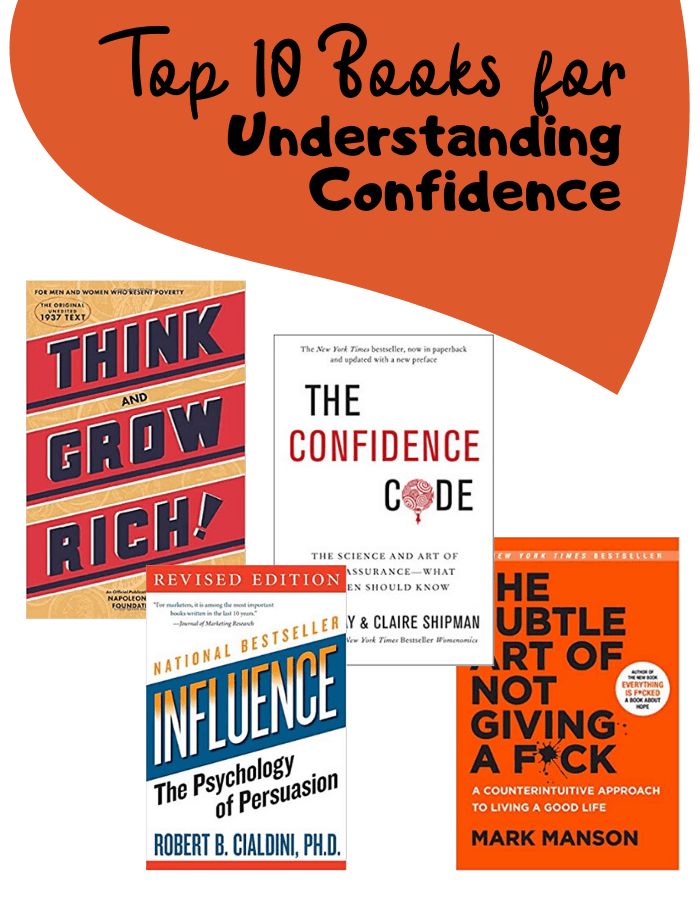 You become what you think about, and it all begins with having a strong internal belief in yourself. To be successful in your personal or professional life, you must believe in yourself before anyone else does. Some people are born with confidence, but everyone can always learn how to be more confident.
In this article, we provide you the ten best books on confidence so that you can raise your game another level. We gathered this last based on the highest review ratings, the structure of the book, and the effectiveness of the lessons covered in each reading. Confidence starts with your motivation to learn, and this list will give you a good start on your research.
Andrew Leadham's Unstoppable Self Confidence provides readers with a practical blueprint on how to minimize the weaknesses that are holding you back in this life. Leadham makes the point that we all have the tools and resources to be successful. But it takes a mature, self-aware person to understand that they need to unlearn the toxic mindsets that limit success and potential.
The book outlines a process on how you can create natural confidence that separates you from the pack. Each chapter gets broken down into direct concepts that utilize real-world examples to make the points clear. This reading will also teach you how to make your confidence transformation stay forever. Find it on Amazon.
Jennie Allen's Get out of Your Head will set you on the right track for the people who need to get control of their thoughts. The book provides many examples of how you can get unstuck and transform your detrimental thinking patterns into positive, life-changing ones. Allen is upfront about the common negative thoughts that we feel, and she assures you that this is a normal state that can be improved on.
The book's central theme is that God designed us to prevent us from falling a deathly spiral. Jennie provides a blueprint on how you can be aware of the evil voice in your head. She gives you essential tips on converting negative emotions into something positive, only by taking control of your head. Find it on Amazon.
Napoleon Hill's Think and Grow Rich is a timeless book with critical lessons that have spanned over 80 years. Hill dedicated most of his life to cracking the code of success and producing success philosophies and principles to help people become masters. This book uses Thomas Edison, Andrew Carnegie, Henry Ford, and others to explain his success principles.
The book provides simple, archetypal techniques on how to build wealth and influence others, starting with your belief in yourself. Hill explains that money and other material items can provide freedom and peace of mind. But, the quality of your relationships and friendships offer an essential additive in our recipe for success. Find it on Amazon.
Harvey Mackay's book Swim with the Sharks Without Being Eaten Alive is the perfect book for the new high school or college graduate who is just getting into the business world. The book provides techniques on how you can become a student of yourself. It talks about how you can use your unique skill set to become a better communicator in business and life.
This book is especially useful for people in sales or service jobs because it helps you outsell your competition. It also gives you insights on how you can better manage your network and help motivate yourself more effectively than others. Find it on Amazon.
Mark Manson's The Subtle Art of Not Giving a F*ck is a bestseller because of its clear guide on how to create happiness without forcing yourself to be positive. The book's unique approach gets right to the point and does not sugarcoat the obvious things. The book's central concept explains how we can improve our lives by making the most out of what life throws at us.
Manson says that we should be self-aware of our limitations. The books communicate that we should welcome our faults and fears and that we cannot make meaningful life changes until we face the sad truths. Once we come to terms with our weaknesses, we can double down on those positive attributes that yield the most growth. Find it on Amazon.
Jen Sincero's You Are a Badass provides an exciting how-to book on how to attack life with purpose. Each of the 27 chapters is short and easy to digest, so it makes for a fun read for everyone. The lessons are easy to understand because they showcase essential advice, inspiring anecdotes, actionable exercises, and other exciting tactics to help you gain confidence.
The book also does an excellent job of exposing the common behaviors and beliefs that prevent us from reaching success. After reading Sincero's book, you will have the momentum and mindset of making small, crucial changes in your life. Find it on Amazon.
Barbara Markway's The Self Confidence Workbook helps give you a solid foundation for self-confidence, thanks to a full workbook of resources. Throughout the reading, there are vital exercises that help you become more aware of yourself and your true potential. Markway is a licensed psychologist who boasts 30 years of experience, enabling you to attack your demons through effective strategies.
The book includes a 5-step blueprint on how to garner acceptance, practice mindfulness, and focus on self-compassion. There are also other checklists, reflections, and pop quizzes that help guide you toward optimal confidence. Find it on Amazon.
The Confidence Code is based on a project of neuroscience research on confidence traits. The authors, Katty Kay and Claire Shipman, interview psychologists from around the world to determine what separates confident people from fearful ones. The insights focus on how we can mitigate risk but also take the necessary action to break through the walls that we often face.
The interviews are done with women leaders in sports, politics, arts, and the military. The authors also explain how a lack of confidence impacts our lives. This book describes how confidence is not hereditary and that it can be utilized for personal success with a few mindset shifts. Find it on Amazon.
Dr. Robert Cialdini's Influence: The Psychology of Persuasion provides you with the necessary tools to understand how people are influenced to make decisions in everyday life. Understanding people's cognitive biases make you more confident in interacting and dealing with people, both personally and professionally.
In this book, you will learn how people say "yes," and how to use the psychological influences to help you succeed ethically in your job and other everyday conversations. You will learn the main ways that people are influenced and their real-life examples, including reciprocation, commitment and consistency, social proof, liking, authority, and scarcity. Find it on Amazon.
We could not make a list of confidence books without putting on Dale Carnegie's How to Win Friends and Influence People. This book provides you with the essentials of learning and understanding people. Once you figure out how to transform and influence others on your side, your confidence builds exponentially. This book explains the critical lesson and tactics for building friends and relationships.
In this book, you will gain insights on how to win people to your way of thinking, how to transform others, and how to make people like you instantly. Once you see the results this book brings in your life, you will go into every interaction with confidence. Find it on Amazon.
Although it was a tough decision to pick our favorite, we must go with Napoleon Hill's Think and Grow Rich. The book includes timeless principles and laws on success, which use inspirational real-life examples of some of the world's most influential leaders. Because Napoleon Hill fought demons in his own life, his lessons are authentic and provide you the necessary fundamentals to master your emotions. Find it on Amazon.