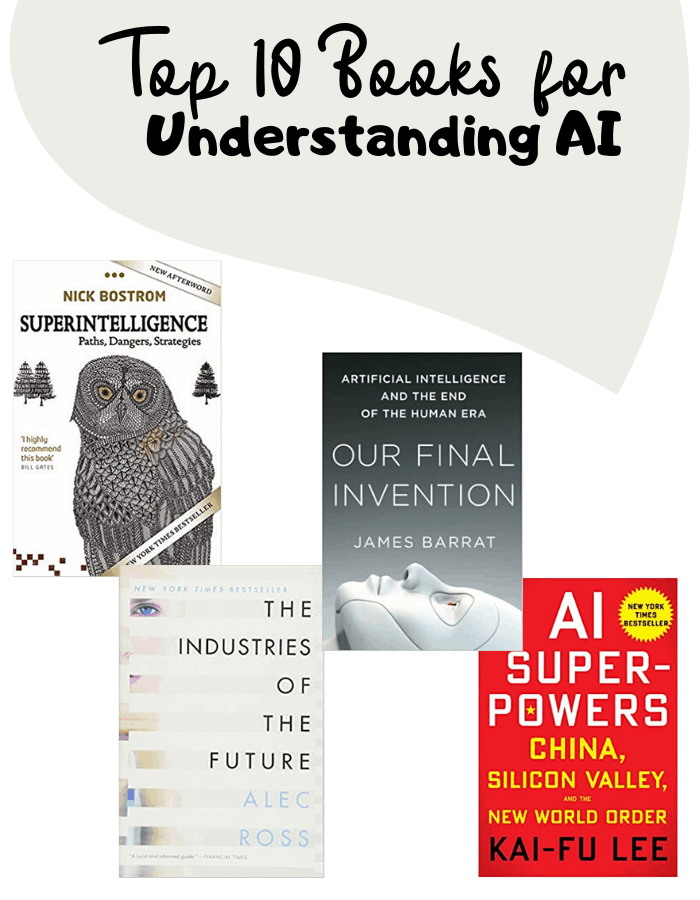 Artificial intelligence is changing the way we live, work, and play. We can accomplish so much more with less, thanks to the technological advancements in the fields of medical, agriculture, security, manufacturing, and sales. As our world continues to evolve in this new world of technology, it is essential to understand its impact, so that we can do our jobs better and adapt.
In this article, we provide you a list of the top books on artificial intelligence. These books will give you a glimpse of how AI is touching specific sectors, its role in our daily lives, and how you can be successful.
DJ Sebastian's The Selling Revolution: Prospering in the New World of Artificial Intelligence explains how salespeople can thrive in the new world of artificial technology. Sebastian highlights how technology will impact selling in the future. He gives you trusted approaches and strategies to adapt your business-to-business selling to get ahead of the curve.
Throughout the book, you will see real examples from proven sales professionals on how they utilized AI. Sebastian also explains the personal behaviors you can practice overcoming the possible threat of artificial intelligence in sales. The book also delivers vital insights on telemarketing, negotiation, and sales presentations. Find it on Amazon.
Kai-Fu Lee is an expert on China and artificial intelligence, so he provides a snapshot of the current technological picture of the world's two largest economies: the USA and China. In this book, he reflects on how China has caught up and aligned itself with the US's technological capabilities. Lee also explains that both countries should embrace this power and utilize it responsibly.
Artificial intelligence has already impacted blue-collar jobs, but this book explains how AI will affect the white-collar jobs in these two countries as well. He offers compelling economic solutions to prepare for this change, which jobs will be most heavily impacted, and how we can unite as people to make the most of the technology evolution. Find it on Amazon.
Applied Artificial Intelligence by Mariya Yao and Adelyn Zhou provides a comprehensive guide on how you can thrive as a leader in this new age of technology. You will find a variety of tactics about leveraging machine learning to help inspire change in your organization.
Throughout the book, there are strategies on building the right team, capitalizing on opportunities in AI, performing thoughtful experiments, and aligning AI capabilities with the overall goals and strategy of your firm. The book focuses on which business situations are the most optimal uses for AI, and how we can identify future opportunities that can leverage AI for success. Find it on Amazon.
Prediction Machines takes a macroeconomic view of AI's impact on governments, governments, and people. In this book, the three authors explain how fundamental economic concepts provide predictability and clarity about AI. The book offers strategies for action from managers, investors, entrepreneurs, CEOs, and other policymakers.
A central theme is how humans make decisions when things are uncertain and how our daily choices usually contain these conditions. The book explains how prediction resources in AI can help us be more productive and make better decisions. You will also learn how the competition will rise because of AI's impact on company production. Find it on Amazon.
Superintelligence by Nick Bostrom asks a daunting question about what life will be like when machines jump humans in intelligence. Bostrom looks at both sides of the argument on whether AI will help save humans or destroy them. Humans have specific capabilities and skills that allow us to be dominant, but Bostrom explains the power of AI if it duplicates these qualities.
Bostrom places the responsibility in humans to act now and make a move now because that is the main advantage. Throughout the book, you will understand how we, as humans, can navigate through this expansive, steep path of AI. Find it on Amazon.
Alec Ross' The Industries of the Future does an excellent job of breaking down how the world's most influential sectors will get impacted by AI in the future. This organized reading breaks down an industry per chapter and offers thoughtful suggestions on what is next for companies and humans. Alec Ross has gained credibility while working for the Secretary of State as a Senior Advisor for Innovation.
Throughout this book, you will learn which fields are most likely to shape our future with AI, including robotics, genomics, cybersecurity and cybercrime, big data, and digital technology on the financial markets. In each of these sections, Ross talks about how we can adapt our work, how companies can innovate, and how parents can educate their kids. Find it on Amazon.
Richard Yonck's Future Minds: The Rise of Intelligence from the Big Bang to the End of the Universe provides an intellectual challenge against the world's assumptions on AI. It covers how the new wave was created and its role in life on earth and beyond. Yonck uses recent studies in physics to uncover why new pockets of complexity give rise to intelligence, life, and civilization.
This book captures the critical conversations Yonck has had with researchers in physics, AI, cognitive neuroscience, and more. For someone who has a more technical and scientific mind, this is an excellent product choice that uncovers the broader scope of AI and its impact on our world. Find it on Amazon.
Aurelien Geron's book on machine learning provides an intuitive guide to building impactful intelligence systems with the right tools and concepts. Geron provides key tactics on deep neural networks, linear regression, and other strategies. There are also exercises in each chapter that help reinforce the material for the reader.
Throughout the book, you will learn the ins and outs of the machine learning world, specifically neural nets. You will also get familiar with the various training models to help run these intelligent systems, including ensemble methods, vector machines, and decision trees. Find it on Amazon.
Max Tegmark's Life 3.0: Being Human in the Age of Artificial Intelligence explains the recent advancements in artificial technology and how it can overtake humans' intelligence. The book covers the specific impacts of AI on war, crime, jobs, justice, society, and our overall orientation.
The book also offers a thoughtful solution to how we can progress as a world without leaving people behind financially. Tegmark also explains the key lessons we can teach the next generations so that they can thrive in the future economy. This book invites people to the conversation about how we can deal with superintelligence, consciousness, and the physical capabilities of the cosmos. Find it on Amazon.
This book was recommended by Elon Musk, which makes it a trusted book for people to read about the future of artificial intelligence. James Barrat's Our Final Invention explains how governments and corporations invest in AI's capabilities to match human information. The book also puts into perspective how we can compete with AI.
Barrat interviews a variety of technology leaders, industry pundits, and other AI leaders. You will get a glimpse of how organizations utilize AI to be more productive, and what this phenomenon will mean for society. The book answers the ultimate question of how we can coexist with artificial intelligence, and how we can thrive in the new world. Find it on Amazon.
There are a variety of resources for learning about AI. It is essential to stay educated on the technology that is coming, and we believe the best book to do that is Industries of the Future, by Alec Ross. The book organizes the chapters into influential sectors that we identify with. You will learn how to face the future in critical areas like big data, robotics, and agriculture, which allows you to make an educated decision. Find it on Amazon.