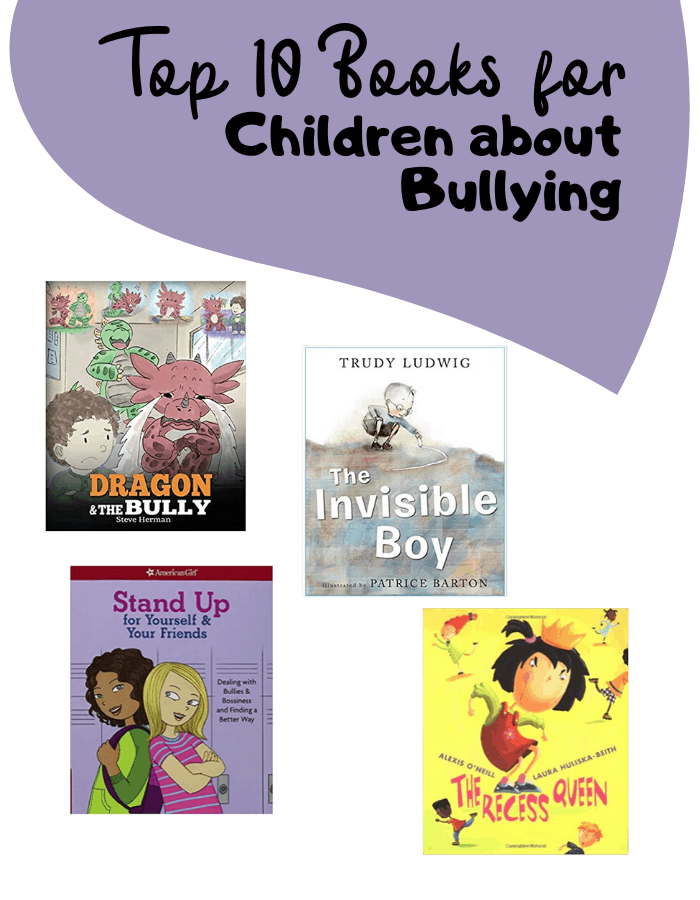 Children live what they learn, and in a world of incredible tension and violence, it is more important than ever to cultivate empathy in our children. Bullying behaviors can begin as young as preschool age, and it is essential to teach children respect for others and reinforce ideas of kindness.
Below is a list of the Top 10 Children's Books About Bullying we've rounded up for discussing the subject of bullying with your children.
The Juice Box Bully focuses on a little boy named Pete, who starts misbehaving in his new school and how his classmates intervene positively to get Pete to quit his bullying ways. The book is most appropriate for preschool and helps children to recognize bullying behaviors and learn healthy ways to deal with bullies as soon as bullying starts before it get's out of hand. Find it on Amazon.
This book is suitable for preschool and early elementary-age children. The illustrations and rhyming text appeal to young children, and the situations presented in the book are easy to relate too.
It includes discussion questions at the end of the book to help extend the conversation further. This book is useful for cultivating empathy for others and teaching them to welcome everyone. Find it on Amazon.
Steve Herman's book is best suited for children between the ages of five and eight. It is part of a series that helps children develop good values. Dragon and The Bully teach children about the importance of not being a bully in a way that is entertaining and not preachy.
It teaches a lovely lesson about not seeking revenge but teaching bullies to be kind through being a good example of positive behavior. Find it on Amazon.
This book is perfect for preschool and kindergarten age students because it gives them a concrete example of the effect kindness has on people. The book explains that when we fill the bucket, we make other people and ourselves happy when we empty the bucket, it makes other people sad and makes us not feel good about ourselves. Find it on Amazon.
The Invisible Boy is about a timid boy named Brian, who no one pays attention to. Brian befriends a new boy who comes to the school named Justin, and together they teach their classmates a valuable lesson about making everyone feel welcome in class. This book helps children relate to one another and reflect on how their behavior affects others. Find it on Amazon.
The Recess Queen uses a combination of bright illustrations and fun language to teach children the power of kindness in disarming bullies. This entertaining story tells the story of Mean Jean, who is a bully and the new girl that comes to the school and invites Mean Jean to play with her and helps Mean Jean change her bullying ways.
It's a fun book to read, and children preschool to third grade will enjoy it immensely. Find it on Amazon.
Big Red is a bully who likes to treat Little Bitty Wolf meanly. Little Bitty Wolf tries different strategies to get Big Red to stop teasing him. The plans don't work, but then Big Red tries something unexpected, he smiles at her, and she stops teasing him.
This book is an excellent resource for kids because it is so relatable, but it also provides parents with a guide to help recognize signs of bullying and steps to take to end it. Find it on Amazon.
Weird! is a good book for older elementary age children. It clearly explains how words hurt and can damage people's self-confidence. Even the colors used in the illustrations help children visually see how hurtful words can be and sends a powerful message in simple, kid-friendly language.
It shows other children, teachers, and parents all rallying around the child being bullied and helping her regain her self-confidence. Find it on Amazon.
This book empowers tweens by providing them with tools to recognize signs of bullying and how to handle it. The book gives practical advice on how to speak to bullies, when it's best to block them out, and recognize when adult intervention is needed. Find it on Amazon.
My Secret Bully deals with a commonly overlooked aspect of bullying, relational bullying from peers that are supposed to be friends. This book teaches a valuable lesson that bullying behavior can come from people who are closest to us and how to deal with those situations. This book is most appropriate for grades 1 to 4. Find it on Amazon.
Conclusion
Even from a very young age, a child can be a victim of bullying or act like a bully. That is why it is so important to find age-appropriate resources for your child to help them understand what bullying looks like and how it hurts people.
It would be hard to choose one book from this list that we could say is best overall, so instead, we've picked the top three based on your child's age. We believe these books teach relevant lessons in a way that is easy for children to understand.