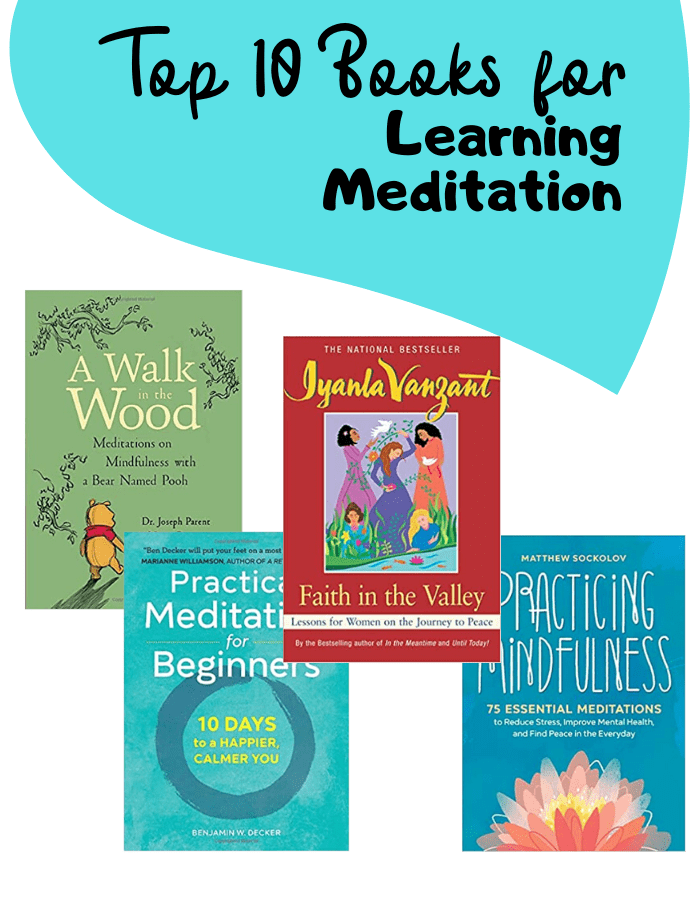 Meditation has many benefits for both physical and emotional well-being. Meditation can help relieve stress and anxiety and increase self-awareness. As life becomes more stressful, more people are turning to meditation to regain a sense of control over their lives and help them cope better with difficult situations.
While there are many books on meditation on the market today, the quality of these meditation guides vary. To help, we've rounded up a list of what we feel are the 10 Best Books on Meditation currently available.
Decker's book assists those new to meditation to develop effective meditation practices. It's a straightforward book that leads readers through 10 days of meditation. Each day focuses on a different meditation technique.
It reads like a how-to guide, and even seasoned meditators who are curious about trying new meditation techniques will find value in this book. It's a great guide to help you start enjoying the benefits of meditation immediately, no matter how much experience you have. Find it on Amazon.
In this book, Singer teaches readers how to change themselves rather than trying to change the world around them. He explains that we're not our circumstances and that to be happy, we must commit to being happy. If you're looking for a guide to practical meditation methods, you might need something a little more substantial, but if you're looking to change your mindset, this book is a good choice. Find it on Amazon.
This book contains a series of 75 meditation practices that have proven effective in bringing serenity into your life. It is like a toolbox for learning how to relieve stress, improve your wellness, and find peace of mind.
Each meditation is only 5 to 15 minutes long, making it easier to squeeze in an exercise wherever you can fit it in your day. What's nice about this book is you don't have to go in order. You can pick an emotion to work through any day, and you don't need any prior knowledge. Find it on Amazon.
This book is one of the most comprehensive guides for beginning meditators available. It explains in detail what meditation is as well as its purpose. It also explains how meditation works.
It's written specifically for those who struggle with getting into a meditative mindset and leads you step-by-step in teaching you how to meditate, where to do it, and how to find the meditation technique that's most effective for you. Find it on Amazon.
Hickman's book focuses on meditations for those who are mourning. The daily meditations take about five minutes, which is incredibly important for those struggling to concentrate during the grieving process.
The writer speaks from the real-life experience of her grief. Her writing is simple and comforting and not particularly religious, so anyone can read and benefit from it. Find it on Amazon.
Dr. Parent's book may seem whimsical, but this book offers some great lessons in the art of slowing down and being present in the here and now.
It's a gentle introduction for newcomers to the practice of mindfulness. Each chapter is only 3 to 4 pages long, and it's a great way to start or end your day. It's not overly philosophical but offers actionable mindfulness guidance that is invaluable to adults. Find it on Amazon.
Zen master Thich Nhat Hanh's book equips you with the skills you need to develop mindfulness. Hanh's leads his readers through a series of basic meditations to help them become more self-aware. He also includes a step-by-step guide that walks readers through the different types of meditation and offers both inspiration and support for beginners and veterans alike. Find it on Amazon.
Iyanla Vanzant's writes specifically with women in mind. She combines the spiritual and the philosophical in her discussion of real struggles that women face in their ordinary lives. This book doesn't contain daily meditations but is more like a reference book for guidance in meditating on your particular life situation. The index has reading suggestions for reflecting on different situations and emotions you are experiencing so you can read what you need when you need it. Find it on Amazon.
Gates presents a year of inspirational meditations that help guide your thinking so you can become more self-aware and empower yourself to make positive life changes.
Gates divides the meditations into seven chapters; each chapter discusses a different topic that will help bring about greater mindfulness in your daily life. This book offers insights into meditating on intention and reintroduces readers to the art of finding stillness in the chaos of life. Find it on Amazon.
Conclusion
Meditation is incredibly beneficial to physical, mental, and emotional well-being. In a fast-moving world full of tension, it's vital to take a little time out to help restore your inner calm. Although all the books on this list have helped countless individuals, Katie Anderson's Meditation: The Complete Guide: Meditation For Beginners, Mindfulness, Happiness & Peace is our top pick.
We chose this book because we liked that it helps support you and your specific meditative needs. Instead of forcing you into a particular practice, Anderson empowers her readers to find their own path by presenting information and leaving her readers to decide what speaks to them.