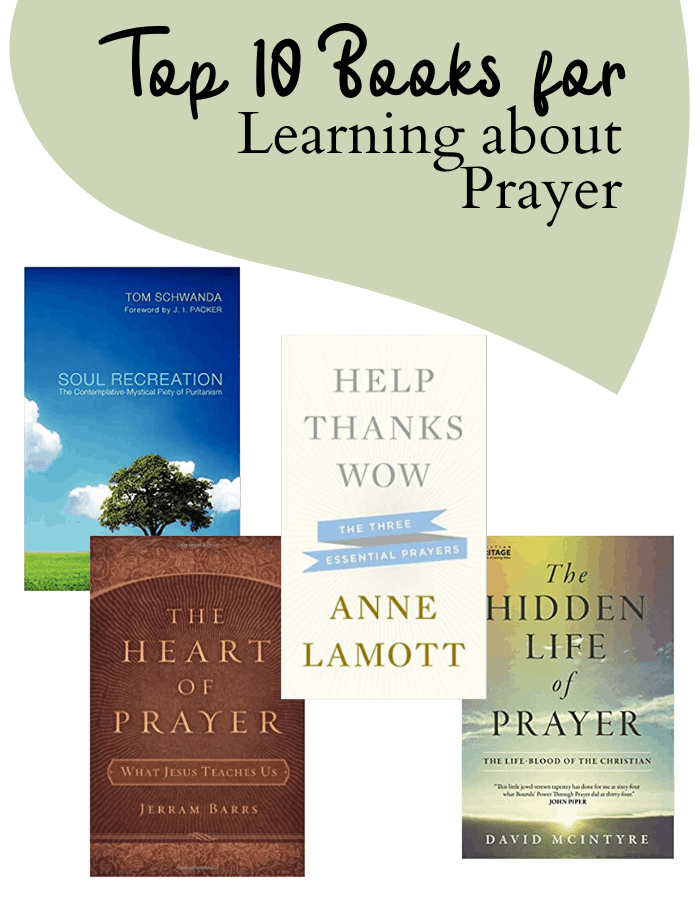 Prayer has its place in our lives, and it's an integral part of religions from Christianity to Islam to Judaism. The best books on prayer will help you understand how your life is with prayer versus without it. 
All of these books discuss actionable steps to grow your relationship with God while also developing better habits around prayer. They are pulled primarily from the Protestant Christian tradition.
In a world, so caught up in itself, it's easy to forget about God and the importance of prayer in our daily lives. This book has stood tall for over two decades, focusing on classic prayers and building a relationship with Christ.
As soon as you turn on the news, watch TV, or read the newspaper, you see a world full of people crying out for help. "Too Busy Not to Pray" focuses on the fact that God has always been there, and he'll always be there if you're willing to seek him out. Find it on Amazon.
Anne Lamott teaches us three of the most important phrases in prayer. We need to ask for help from God when we need it. Readers, no matter how young or old, can implement these three simple principles in their lives, and when they do, something amazing happens.
The book also helps followers of Christ to give thanks for the blessings God provides to them. It's essential to acknowledge blessings when they occur. Finally, we must slow down and take time to look around at God's creation. The book explores how these ideas can create a beautiful life. Find it on Amazon.
Our world is so full of things to do, children to care for, jobs to work, we often forget that prayer is natural. Even though we want to make Christ an active part of our day, we will always acknowledge the fact that we don't spend enough time in prayer.
"The Heart of Prayer" teaches us that it's okay, and Author Jerram Barrs encourages us to spend more time in prayer and communication with God. It's not so much about our performance in prayer, but what we believe in our hearts. Find it on Amazon.
This book provides hope to a hopeless world. Prayer is such an important part of being a Christian, but yet we don't communicate with God naturally. It seems that we only turn to prayer if we need something or saying grace before our dinner. This lack of communication with God has led us away from His Word.
This book teaches us that prayer is not so much about what you say; it's about your relationship with God. It's the fact that you're aware of His presence, and you're acknowledging the many things he does that we often overlook throughout our day. Find it on Amazon.
We're living a world that needs God more now than ever, and "Soul Recreation" tells us that. Puritanism is a subject that many Christians prefer to avoid, yet fewer historical groups have written more on their relationship with God.
The book is based on the teachings of Isaac Ambrose, an English Puritan who believed that your standing as a Christian was directly correlated with the strength of your relationship with Christ. If you had a strong relationship, things would manifest in your life as you desired. The book also touches on the importance of spending time in the scriptures. Find it on Amazon.
All-day, every day we're receiving invitations. Our boss invites us to take on a new assignment; we receive an invitation to a wedding, and we can possibly receive an invitation to adultery. It's not the invitation that's wrong; it's what we choose to do with it. There are certain things in our lives we say yes to, and some we decline. Why is that?
"Invitations from God" talks about receiving invitations from Christ and how sometimes they might not be the ones we want to receive, but we have to understand that He is in control, and we should accept it. The book contains questions to ask yourself, charts, and guides to follow along. Find it on Amazon.
Author John Edward is popular for his books regarding spiritual teaching and religious enlightenment. "Practical Praying" talks about how we can use prayer to bring good things into our lives through positive energy and creativity.
Many people spend most of their days in a dark place where negative thoughts are always taking over. The book exists to help you cast away those negative thoughts by understanding that God is always on your side. This book has three sections discussing the history of the rosary, the process of prayer, and John's personal thoughts on these matters. Find it on Amazon.
The spiritual disease of shame impacts many of us, and it exists to destroy our relationship with God. When we feel that shame has taken over, we don't feel inclined to pray or try to communicate with Christ because we feel "unworthy." 
"The Soul of Shame" helps us identify that shame and understand how it has broken our relationship with God. Psychiatrist Curt Thompson discusses the neurobiological side of this and connects it with theology so we can develop the tools necessary to eliminate shame and rebuild our commitment to prayer. Find it on Amazon.
This book is based on the movie "War Room." It includes lessons to help you grow in prayer and understand the message of the church. Some topics include:
Spiritual Lukewarmness
Christian Accountability
Grasping Grace and the Gospel
Engaging in Spiritual Warfare
Trusting God in Prayer
All of these topics help you grow in faith and apply prayer in your everyday life. Prayer isn't something that we can pop in and out of, and "War Room" helps make it a natural habit. Find it on Amazon.
"The Hidden Life of Prayer" exists to make people realize that your personal relationship with God is what's most important. It's not enough to go to church once a week and prayer with fellow parishioners. Instead, it's all about the secret prayer you do when you're all alone.
The book uses the experiences of many well-known theologians to help strengthen the reader's commitment to prayer. Find it on Amazon.