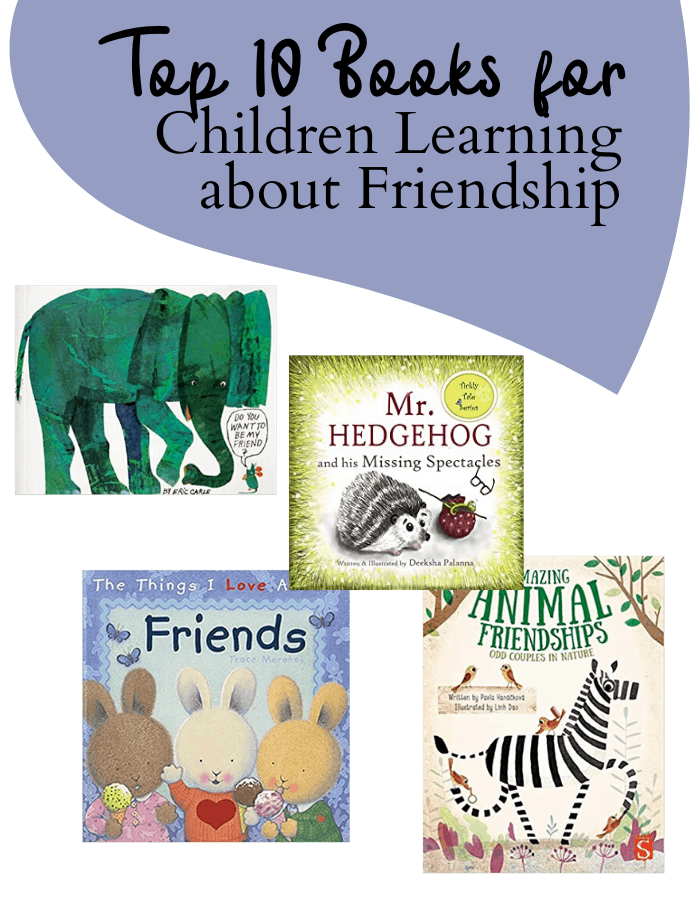 Picking picture books with stories and themes that mirror events and feelings from your child's life is important. Friendship is a fun and positive topic to read about, and the best picture books about friendship can help your child navigate this important aspect of their lives.
Here are ten picture books with fun stories, compelling illustrations, and important messages about friendship.
This board book from award-winning author Eric Carle is a must-have. Carle is the author of The Very Hungry Caterpillar, and you'll recognize his illustration style in Do You Want to Be My Friend?
Children of all ages will enjoy looking at this picture book, thanks to the fun and colorful art. The story is about a mouse looking for a friend. It's an introduction to different animals, shapes, and colors, as the mouse approaches different animals.
The idea of looking for a friend, and finally finding one will appeal to children, and the structure of the story makes it easy to memorize and tell over and over again. Find it on Amazon.
This board book is about the unlikely friendship between a carrot and a pea. The characters are unusual and allow for illustrations that emphasize differences through shapes and bright colors your child is familiar with.
The book is a short read, and the sturdy board book construction is ideal for toddlers who want to hold and play with books. We like this picture book because it explores the ideas of friendship and diversity in terms your child can relate to. Find it on Amazon.
This book doesn't use any text. It relies on adorable illustrations to tell the story of a penguin who sets sail in search of friendship.
The penguin meets different animals along the way, and the illustrations show the animals overcoming different challenges together.
A wordless picture book is a fun idea. Your child can follow the story on their own and use their imagination to put the story into words. It's a fun way of helping your child develop their vocabulary, and the focus on friends going on an adventure together will get your child excited. Find it on Amazon.
This humorous picture book tells the story of Mr. Hedgehog and his missing spectacles. The search for the missing spectacles results in several encounters, and the book is ultimately about the importance of friendship and helping others.
We recommend this picture book because of its positive message, humorous story, and the soft colors of the illustrations. Find it on Amazon.
Jojo doesn't have any friends until she meets a snowman made from magic snow. This picture book is about making friends and learning how to be a good friend.
It's a great story for children who worry about not having any friends, and the idea of magic snow will captive your child's imagination. The colorful illustrations make the story come to life, and the snowman character is a fun alternative to the animals most children's books focus on. Find it on Amazon.
This picture book is about celebrating friendship. Each page shows adorable rabbits having fun together and engaging in different activities.
The book shows situations your child can relate to, and seeing the rabbits celebrate their friendship will help your child learn how to be a good friend. It's a short read, but the illustrations are fun to look at, and the positive message will encourage your child to talk about the friendships in their lives. Find it on Amazon.
This picture book uses a play on word between Friend Ship and friendship to create a fun premise. The story is about a hedgehog who wishes she had friends. She goes on a quest to find a Friend Ship and encounters other animals along the way.
It's an adorable picture book filled with cute animals, and the adventure and search for the Friend Ship make the story exciting. Find it on Amazon.
We recommend this picture book because it explores symbiotic relationships that exist between different animals. It's an excellent choice if you have a child who enjoys learning about animals and nature.
The book uses short texts and an original art style to tell stories about friendship and help children learn about the world around them. We like the fact that the book uses the idea of friendship to talk about nature in a way that is easy for your child to relate to. Find it on Amazon.
This fun picture book tells the story of Mac the apple and Will the worm. These two characters become best friends and learn to deal with others judging them for their unlikely friendship.
We like this book because of the compelling characters and art style. Your child will learn that friendship is important, and the short texts make the book ideal for young children. Find it on Amazon.
The realistic illustrations of this book will appeal to older kids. This book tells the true story of a cat and a dog left behind after Hurricane Katrina, how they survived together, and how rescuers eventually saved them.
This book is a real-life story about the power of friendship and getting through adversity. It's also a positive story that can help children talk about their feelings after experiencing a disaster. Find it on Amazon.
Conclusion
Friendship is a recurring theme in children's books. Forming her first friendships is an important aspect of your child's life, and it's a topic you can explore through picture books.If you're unsure of which picture book to pick, we recommend Do You Want to Be My Friend? You can't go wrong with a picture book written by an award-winning children's book author, and your child will enjoy reading and rereading this classic book, thanks to its fun story and colorful illustrations.