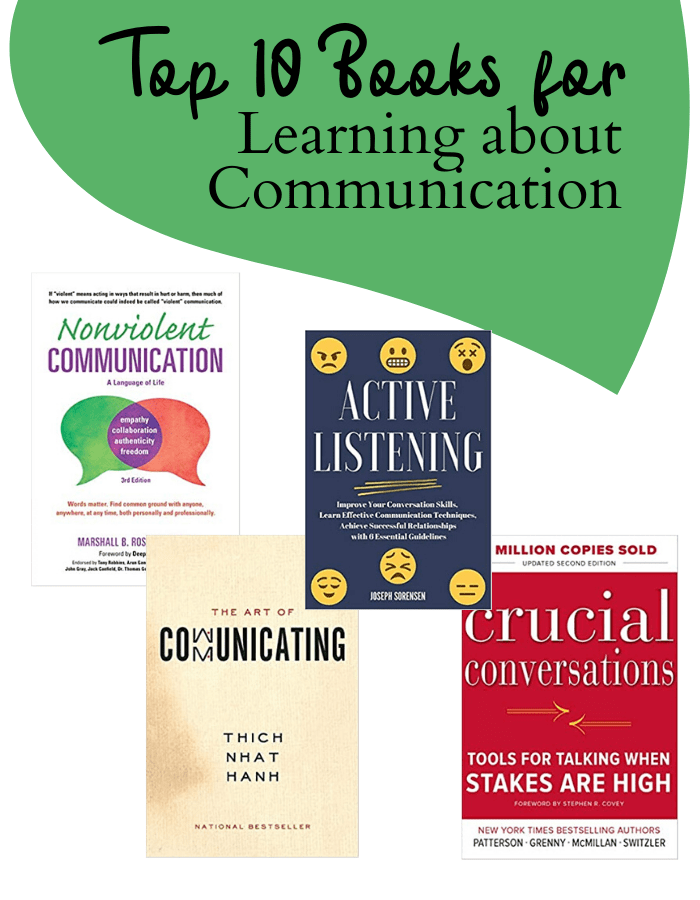 When your job, your marriage, your friendships, and the bond with your children could be on the line, it is surprising that effective communication is not more of a skill studying in school or promoted as job training.
Fortunately, you can learn a lot about communication from books, whether on an e-reader, in audio form, or old-fashioned paperback. 
Exactly What to Say is written more from the approach of how to market yourself or your business but might be one of the best crossover books on general communication. You can apply the tips in this book to almost any type of relationship, not just business-to-business connections.
At its core, Exactly What to Say covers how to figure out what the other party genuinely wants and using the best words for the most impact. Find it on Amazon.
Wait, but you need to learn to communicate your thoughts better! Why then would I recommend a book on listening? Listening is half of conversing, if not more. It's also evident that most people do not genuinely learn how to listen as they grow up actively.
Listening can be far more powerful than you might realize. This book is excellent because the tips are not only helpful, but they are laid out in a straightforward, step-focused manner. Get this book for business or personal relationships—the advice is beneficial for both. Find it on Amazon.
I put I Hear You on this list because it covers active listening, but this book is more focused on diffusing problems and arguments and helping others feel heard. When you become a master at making others feel heard, you can get to the root of issues, whether in business, your relationship, or with your family. Other people tend to listen to your messages better once they feel validated, too.
I like this book not only for the excellent advice but the casual, conversational writing style. This one is a little less step-by-step and more approachable for those who don't like rigid guidelines. Find it on Amazon.
Everyone inevitably comes across tough situations with others, whether it's at work, at home, or with friends. I love this book because it covers how to handle those more challenging circumstances.
This is one of my favorite books on communication because it not only addresses active listening—it's a bit like a guide on how to diffuse an approaching storm in any relationship. If you deal with tricky relationships at the holidays or need to know how to communicate with a ruthless boss better, this book is for you. Find it on Amazon.
Not all communication involves words, or even listening to others speak. Within seconds, you can read a lot about what people are feeling, hiding, or trying to convey by their body language alone. I liked this book because a trained former FBI agent walks you through all sorts of cues you might not think to look for.
There are plenty of body cues to help you read people and assist you in communicating what you want to people. Not only does this cover reading others, but it also shows you how to create a confident or commanding presence to others with your body. Find it on Amazon.
Buddhist monk Thich Nhat Hanh, once nominated for the Nobel Peace Prize, captured the essence of communicating in this relatively short book. In 176 pages, he covered an overarching brief education on listening, clearing misunderstandings, and diffusing complex problems.
This book deals with communication in a bit more of a philosophical sense than some of the more business-minded guides. If you're interested in learning to communicate better and intrigued by looking within, this is one to pick up. Find it on Amazon.
Would it really be a list of best books on communication without this perennial best-seller? There is a reason How to Win Friends and Influence People has been so popular for over 60 years. Carnegie put a lot of timeless information in here that works as a toolbox for social interactions.
Some of the material is dated, sure. Still, the overall message is worth reading for people who struggle with social awkwardness, have trouble meeting new people, or always seem to come off as harsh or unapproachable. Find it on Amazon.
If you're looking for a short, simple-to-digest book with actionable exercises on better communication, this is one to check out. There are a lot of self-review questions at the end of chapters. This book is a decent primer for those who haven't read up much on communication skills.
One of the primary points covered in this book is empathy, which is the heart of authentic, mindful communication. It's a simple concept and essential material, but worthwhile for those who are just getting started on the path to communicating well. Find it on Amazon.
Before you skip past this book, consider this: so much of our communication these days is online, through text, or portrayed on social media. How many times have you experienced a miscommunication in a text message or even a comment you posted online?
While the focus of this book is on composing emails, you can apply the skills to nearly all forms of written communication. In our era of technology, everyone could benefit from the information in this book. Find it on Amazon.
The title of Nonviolent Communication: A Language of Life might be a bit misleading. Violence, in this case, is not necessarily about physical aggression. Rosenberg and Chopra evaluate violence here as acting in ways that can hurt others, and we all know words can do a significant amount of damage.
This book helps break down the path to communicating effectively, instead of it being a power struggle.
I like that it covers working through disagreements mindfully, preventing problems from escalating, observing others without judgment, and using wiser thought with our words. Find it on Amazon.
Conclusion
It doesn't matter if you want to improve your communication for your marriage, your career, your friendships, or your parenting—you can become somewhat of an expert communicator on your own time by diving into the resources here.Are you wondering where to start? My personal favorites are Nonviolent Communication: A Language of Life and I Hear You: The Surprisingly Simple Skill Behind Extraordinary Relationships.