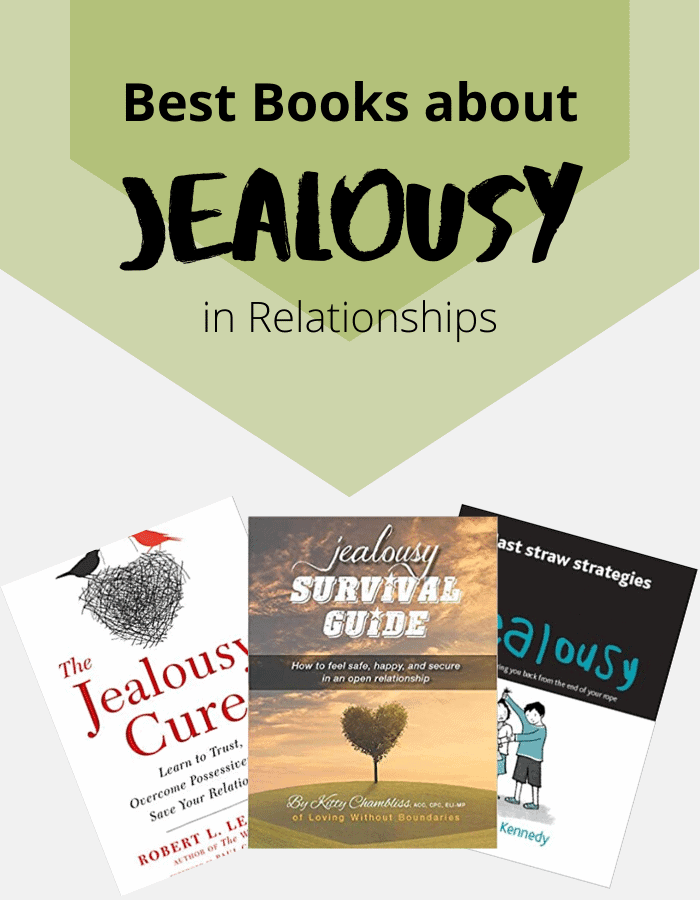 Generally stemming from fear, anxiety, concern or insecurity, jealousy is an emotion that all humans feel – even babies! Though it can lead us to protect and fight for things we love, it can invariably lead to relationship toxicity if not dealt with appropriately.
If you are interested in learning more about this complex emotion, you'll find something in this list of The Best Books about Jealousy in Relationships on Amazon divided into two sections: Help for Children & Teenagers and Help for Adults.
Help for Children & Teenagers
But I Love Him: Protecting Your Teen Daughter from Controlling, Abusive Dating Relationships by Jill Murray
"Dr. Murray identifies these controlling, abusive patterns of behavior and helps you get your daughter out of the relationship without alienating her. You will learn what draws her to this type of relationship, why she has a hard time talking to you about it, the special barriers teens face when breaking off a relationship, and what's going on in the mind of a teen abuser." See it here on Amazon.
Expectations & Reality: Teen Views on Living Together, Roles, Work, Jealousy & Partner Abuse by Jeanne Warren Lindsay
"The final book in Jeanne Warren Lindsay's Teenage Couples series, Teenage Couples — Expectations and Reality, portrays a vastly different world for teenage couples from their world of even a decade ago. Thirty-seven hundred teens speak out—on relationships, sex, roles, work, jealousy, abuse." Read compelling personal accounts and testimonies on the ins & outs of teen relationships – and learn to separate the expectations from reality. See it here on Amazon.
Jealousy: 99 Tips to Bring You Back from the End of Your Rope by Michelle Kennedy
Dealing with jealousy in your children? "Here are practical ways to deal with a child's jealousy when a new baby comes into the house. Here too is advice to parents on how to resolve conflicts among kids who don't want to share toys or who demand too much attention. See it here on Amazon.
Odd Girl Speaks Out: Girls Write about Bullies, Cliques, Popularity, and Jealousy by Rachel Simmons
"Rachel creates a safe place for girls to talk, rant, sound off, and find each other. The result is a collection of wonderful accounts of the inner lives of adolescent girls. Candid and disarming, creative and expressive, and always exceptionally self-aware, these poems, songs, confessions, and essays form a journal of American girlhood. They show us how deeply cruelty flows and how strongly these girls want to change." If personal testimonies and accounts help you learn and understand your own situation, this book is for you. See it here on Amazon.
Preventing Sibling Rivalry: Six Strategies to Build a Jealousy-Free Home by Sybil Hart
"Using groundbreaking research into the emotional world of infants, the author reveals the psychological underpinnings of sibling rivalry and shows parents how to overcome and prevent this common family problem." This is a must read for all parents – it includes helpful insight on the sibling dynamic and strategies to keep jealousy to a minimum. See it here on Amazon.
Help for Adults
The Jealousy Cure: Learn to Trust, Overcome Possessiveness, and Save Your Relationship by Robert Leahy
"We often feel jealous because we fear losing the things or people that matter to us the most. With this insightful guide, you'll discover how jealousy can both help and hurt your relationship, and learn proven-effective skills to keep jealousy in its place." See it here on Amazon.
Insecure in Love: How Anxious Attachment Can Make You Feel Jealous, Needy, and Worried and What You Can Do About It by Leslie Becker-Phelps
"With compassionate self-awareness, you can successfully explore old anxiety-perpetuating perceptions and habits without being overwhelmed or paralyzed by them. By understanding the psychological factors at the root of your attachment anxiety, you will learn to cultivate secure, healthy relationships to last a lifetime." See it here on Amazon.
Jealousy Survival Guide: How to Feel Safe, Happy & Secure in an Open Relationship by Kitty Chambliss
"In "Jealousy Survival Guide", Kitty Chambliss does the homework for you and collects the best tidbits on life and emotions to give you inspiration and provide tools to gain and practice new skills. Combining her own life experience with these pearls of wisdom, Kitty focuses on jealousy in consensually non-monogamous relationships, what it is, how it expresses, and specific ways to manage it." See it here on Amazon.
No More Jealousy: Breakthrough Strategies and Insights for Overcoming Jealousy and Creating a Better Relationship Now by Susie and Otto Collins
"Most people dealing with jealousy think they are doomed to live with it forever. The reality is that you can stop the jealousy. Learn the secrets to overcoming jealousy … rid yourself of the pain and embarrassment of jealousy in your relationships and life. Discover how hundreds of people have stopped jealousy before it destroyed their relationship or marriage" See it here on Amazon.
Jealousy and Envy: New Views about Two Powerful Feelings by Léon Wurmser & Heidrun Jarass
"Jealousy and envy permeate the practice of psychoanalytic and psychotherapeutic work. New experience and new relevance of old but neglected ideas about these two feeling states and their origins warrant special attention, both as to theory and practice." Here's a more clinical look on Jealousy & Envy from a psychological perspective. See it here on Amazon.
Communication: Key to Your Marriage: A Practical Guide to Creating a Happy, Fulfilling Relationship by H. Norman Wright
Here's a more positive spin on building your relationship through communication, which could be the path to addressing jealousy in your relationship. "Presenting insightful ways to reduce marital conflict, manage anger, build one another's self-esteem and just plain listen to one another, Wright provides couples with the resources to understand each other at new and deeper levels." See it here on Amazon.
Escaping Emotional Entrapment: Freedom from Negative Thinking and Unhealthy Emotions by Daniel Rutley
Here's a book geared toward gaining emotional control over all those negative emotions, including jealousy. "Gaining emotional control will make a profound difference in your career, in your relationships, and in your life. [the author] focuses on how to become more of who you want to be and how to take charge of your life, regardless of life circumstances." See it here on Amazon.
When Friendship Hurts: How to Deal with Friends Who Betray, Abandon, or Wound You by Jan Yager Ph.D.
Jealousy has many manifestations and results – one of which is hurt. This book "demonstrates how, why, and when to let go of bad friends and how to develop the positive friendships that enrich our lives on every level. For everyone who has ever wondered about friends who betray, hurt, or reject them, this authoritative book provides invaluable insights and advice to resolve the problem once and for all." See it here on Amazon.
Why Can't We Get Along: Healing Adult Sibling Relationships by Peter Goldenthal
"Hasn't it gone on long enough…the rivalry, the jealousy, the pent-up anger, and the grudges rooted in the past? In this book, renowned author and family psychologist Peter Goldenthal offers proven prescriptions for brothers and sisters who want to break through old, destructive patterns and create a richer, more loving, and more rewarding relationship with their adult siblings." See it here on Amazon.
Overcoming Jealousy by Dr. Windy Dryden
"Jealousy can be destructive, and an atmosphere of suspicion can ruin relationships and undermine your confidence. Windy Dryden's refreshingly practical approach will help you understand your feelings, and distinguish between healthy and unhealthy reactions to the behavior of those you love." See it here on Amazon.
Romantic Jealousy: Causes, Symptoms, Cures by Ayala Malach Pines
One reviewer writes: "This book is a HUGE help when looking at jealousy. Whether you tend to be a bit too jealous yourself, or whether you're dealing with a partner who tends to be overjealous of you, the book gives real life examples of situations, and practical advice on how to deal with them.
Just about every relationship has run into jealousy problems at one point or another. They CAN be worked through. I highly suggest this book as a great way to help improve your own relationship." See it here on Amazon.
How to Deal with Jealousy by Taylor Timms
If you're looking for a good comprehensive approach along with practical steps, check out this book. "This book is a complete guide on jealousy and how to deal with it. The author put everything he knows about breaking free from jealousy into simple, understandable language so that you can easily learn all there is to know about it." See it here on Amazon.
The Othello Response: Conquering with Jealousy, Suspicion and Rage in Your Relationship by Dr. Kenneth C. Ruge & Dr. Barry Lenson
"In The Othello Response, readers discover how to recognize the Othello Response and determine whether it is doing damage, prevent the Othello Response from taking hold in relationships if it has not already, and heal one's relationship in the wake of actual affairs or infidelity. Rich in practical advice and case studies, The Othello Response brings a widespread problem to light and offers help to countless people whose lives are in turmoil." See it here on Amazon.
Life Without Jealousy: A Practical Guide by Lynda Bevan
Here is an empowering guide to letting go of the jealousy in your life. "You can use this book as a manual to overcome emotional insecurity issues and to give you a clearer perspective on the emotion of jealousy. By engaging with the exercises with this book, you'll be able to see yourself as you really are and further exercises will assist you in eliminating your jealous thoughts and behavior." See it here on Amazon.
Jealousy: True Stories of Love's Favorite Decoy by Marcianne Blevis
"Renowned psychoanalyst Marcianne Blevis reveals the multiple faces of jealousy and unmasks the unconscious triggers that prevent its victim from confronting this consuming torment. Divided by case study, each chapter unveils another trait of the jealous lover and deconstructs the origins of suffering, illuminating ways to put an end to the repeated patterns of self-destruction." See it here on Amazon.
Coping With Your Partner's Jealousy by Nina Brown, EdD., LPC.
"[This] book contains exercises and strategies that will help those involved in repairable relationships identify the triggers that provoke jealous reactions in their partners. Techniques for effective boundary-setting, enhanced communication, and deepened intimacy give you the tools you need to work through periods of jealous reaction." See it here on Amazon.
Conclusion
Psychologists, Biologists and Theologians all agree the reality of jealousy creeping into relationships. And just like all other emotions, it plays a significant role in the well-being of our culture.
If you're interested in other resources on relationships and emotions, be sure to check out Bestsellers on Anxieties & Phobias, Best Books about Happiness, and Bestselling Books on Healthy Relationships.