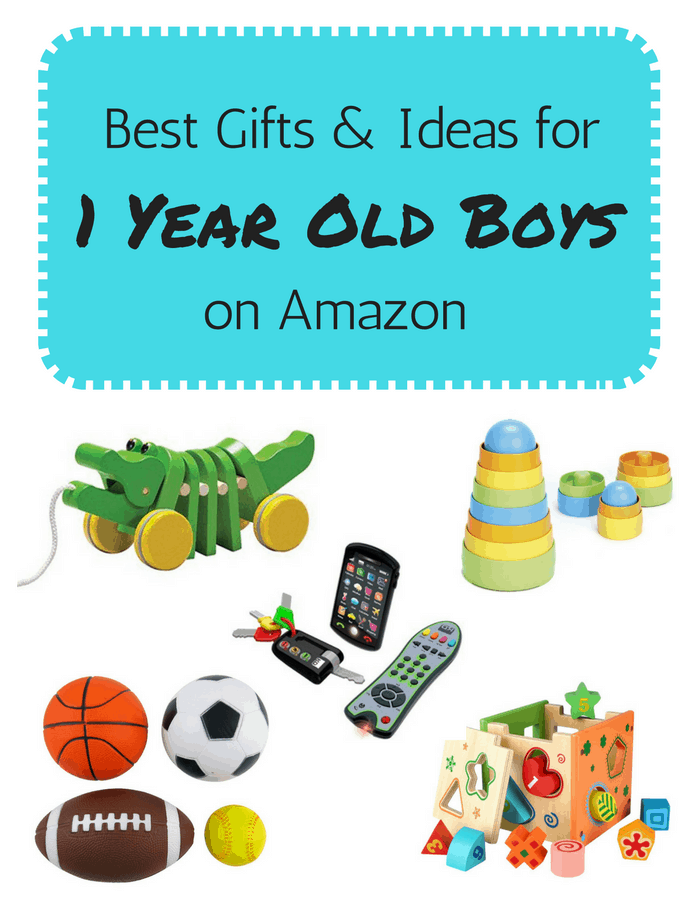 Life can be so exciting with a little one year old around – they are going through so many changes developmentally physically, socially and emotionally. They love to mimic your words and actions, search for hidden objects, explore their world by shaking, banging and even throwing things. They even begin to favor certain toys and people.
There are so many options on Amazon's toy inventory, it's hard to know what's best when it comes to developmentally appropriate and fun toys. So here are some of the Best Gifts & Ideas for 1 Year Old Boys on Amazon.
Don't think that a pull toy is too soon – your 1 year old is on the brink of taking his first steps, and this is a great motivator toy! He can also play with it as he cruises around or even play together with mom or dad. The alligator is bright, dances as he "walks" and is completely non-toxic. See it here on Amazon.
These balls are perfect for a growing toddler! They are soft and fun to play with – and naturally encourage him to practice his motor skills by grasping, throwing, rolling and following the ball with his gaze. Your 1 year old will be entertained for hours. See them here on Amazon.
If any toy were an essential, this set of stacking blocks would be it. Not only are they great quality, but it's the type of toy that can grow with your child. It's a stacking + nesting block combo with shape sorters too. These blocks are great for developing sensory, motor and logic skills – and what kid doesn't love knocking a tower down? See it here on Amazon.
This shape sorter is so cute and interesting, any 1 year old would love it! It's a great way for him to practice his pinching grip, and it's a fabulous and fun tool to introduce shapes & colors. And sorting shapes is a great parent/child game that both of you will enjoy! See it here on Amazon.
Now, it isn't your typical doughnut stacker toy with the center post. It's actually better! This pastel stacker toy is less hazardous (no center pole) and just as fun and educational, plus it's environmentally friendly. It's stable enough to stand up when kids bend over to look sideways and they can be stacked in more ways than your typical stacker. It might be the best toy on this list. See it here on Amazon.
As your little boy starts exploring with his first steps, a push toy like this shopping cart can be a big helper to him! It will give him some stability, but he'll still maintain his freedom to explore and practice moving those little feet of his. Also, it's a great place to store other toys! See it here on Amazon.
Making music yourself can be a wonderfully epic moment, right? With these toddler instruments, you little one will be able to explore and make music himself! It comes complete with a maraca, a tambourine, a clapper and a rainmaker. See this set on Amazon here.
Here's another fabulous option that encourages creativity, hand-eye coordination & stronger memory. The xylophone gives a more subdued and less intense sound than the other instruments – it's actually rather pleasant (so parents can enjoy the musical performance without ear plugs!). See it here on Amazon.
Bath time is probably already a fun play time at home – and these foamies make it even better! These little guys float and stick to the bathtub wall, so they make an awesome addition to bath time. They can be used to talk about letters, numbers, colors and animals, plus your toddler can practice using his little hand to grip and place them on the wall in fun patterns. See them here on Amazon.
We've established that everybody loves a good bath time right? Well, this toy set just took fun up a notch. It's got stackable, sprinkly cups, squirty sea creatures, washcloths & a sea captain in a boat. So fun. See it here on Amazon.
Pounding is not always an expression of anger or frustration. In fact, toddlers use banging and pounding in the most educational way – it helps them figure out the boundaries of an object, strengthens hand-eye coordination, and that some things only fit the right way. And this toy was built just for that. As simple as it looks, it can occupy their little brains for hours. See it here on Amazon.
Most 1 year olds have started – or will soon start to mimic adults and use certain objects properly, like combing their hair with a brush, eating with a spoon, or…talking on the phone. This tech set as fabulous because the creators designed each piece to look real! So your tyke can have his own set! It's really fun for pretend play and developing cognitive skills. See it here on Amazon.
These blocks are practically an investment in his childhood – he can play with these for years to come, building more complex castles as he grows up. They are made from non-toxic, hard foam so they won't damage your floors or furniture – and he can't chew them to pieces either. See them here on Amazon.
One year olds are learning & understanding more language than you realize. The best ways to help your little boy grow his vocabulary is by talking to him and reading to him! And he will love this book set. The pictures are colorful and interesting, and the language is simple enough for him to understand. See the set here on Amazon (it includes 4 bedtime stories + the alphabet, colors, opposites and numbers…8 books!).
Conclusion
Toddlers are growing oh-so-fast and it's such a fun time to be involved in their lives. And these toys will give you some special moments to cherish as you play together.
If you didn't find what you were looking for, be sure to check out Amazon's Best Selling Toddler Toys and the Most Wished for Clothing for Toddler Boy's.