Highly sensitive people often get a bad rap – however, people categorized in this group have many fabulous qualities that contribute to our complex society. They are often creative, intuitive and in tune with the little details that many of us miss!
Understanding the thoughts and feelings of others can be both a blessing and curse. Check out these books specifically tailored for empaths and highly sensitive people to help you live better and build on your strengths. Here are The Top 10 Books For Empaths and Highly Sensitive People on Amazon.
Whose Stuff Is This? by Yvonne Perry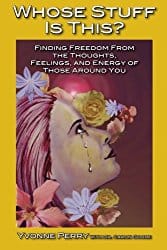 For those who pick up – and end up carrying – the emotions, feelings and energies and can't seem to let go, this book will really help you find freedom! See it here on Amazon.
Emotional Freedom: Liberate Yourself from Negative Emotions and Transform Your Life by Judith Orloff

Looking for peace and calm from all that negative energy and confusing emotion? See it here on Amazon.
Dancers Between Realms – Empath Energy, Beyond Empathy by Elisabeth Y. Fitzhugh

Are you struggling to understand how to flourish as a highly sensitive person? This book is for you. See it here on Amazon.
Empowered by Empathy by Rose Rosetree

This book offers 25 practical tips that will help you maintain control of your gifts. See it here on Amazon.
The Highly Sensitive Person's Survival Guide by Ted Zeff PhD & Elaine Aron PhD

Here's a great guide to give you the necessary skills to live well in a world that can be overstimulating. See it here on Amazon.
Help! I'm Sensitive: 50 Tools for the Sensitive to Help You Survive & Thrive: Ronni Ann Hall

This might be the most practical book on this list – a long list of practical tools will truly help you. See it here on Amazon.
Trust Your Vibes by Sonia Choquette

You will finish this book feeling empowered with all the secrets you need for living intuitively. See it here on Amazon.
Empathy and sensitivity towards other people is an amazing gift – though it may seem overwhelming on the day to day. There are all kinds of helpful resources out there, but these are some of the best!
You may also be interested in the Best Self Help Books on Amazon or this list of Books on Anxiety.
Happy shopping!